Merwees
"Magical dolls turn into mermaids when they swim!"
Merwees were produced by Cap Toys in 1997. They were a small series of six little 3 inch mermaid dolls which came inside Polly Pocket type cases. There was also one larger playset produced. When the dolls were submerged in water their tails (joined legs) would change colour to reveal a pattern. I image that the line was intended to be expanded as a "Magical Seahorse" trademark was registered but never produced.
[eBay links are sponsored]
Images on this page thanks to Batty Sparkles, Jana, Rebekah, ecrater seller shesxmagic, and eBay sellers Shooting_star87 SHOP, ruscoes, dmrbtx07, heartsgalore2008, Arktifacts and Dennis Collectibles Dolls And Toys!
Small Playsets ~ Seashell Collection
There were six small playsets produced. Each set came with one doll (except the wedding set which came with two), a sea creature friend, comb, flower shaped sponge, net puff and a few small accessories related to the case's theme. Each case came with a different side attachment (such as a waterslide, diving board or hammock) and a sucker attachment so the case could be stuck to the side of the bath. There were two colour variations of some of the white dolls, and some sets were sold with white dolls or black dolls (see bottom of page for images of the dolls).
These playsets were all entiteld "Seashell Collection", indicating the line would have been expanded into another collection had it continued. I wonder what the theme would have been?
Beach Cafe
The Beach Cafe came with an octopus friend and a few small kitchen accessories. The case attachment looks like two small shelves. I've found two colour variations of the doll which came with this set, and the packaging image above implies it could also have come with a black doll too.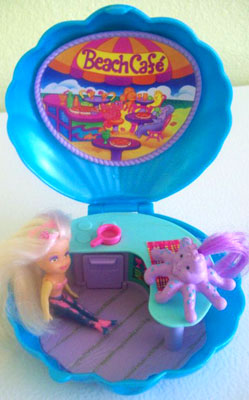 Beach Party
The Beach Party playset came with a dolphin friend, hammock case attachment and a tea tray. This playset came with either a white or black doll.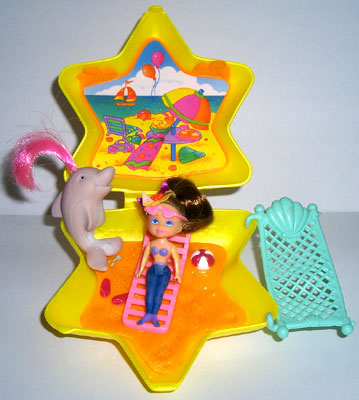 Birthday Party
The Birthday Party playset came with a seahorse friend, treasure chest and a diving board case attachment. There were two colour variations of the doll.
Birthday Party
Boxed
Loose
Bubble Bath
The Bubble Bath playset came with a water slide case attachment, blowfish friend and real bubble soap. There were two colour variations of the doll.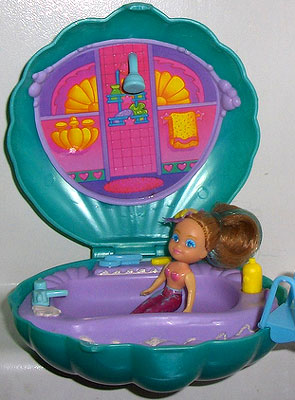 Bedroom Playset
I don't know the official name for the bedroom playset. It came with steps case attachment and a fish friend (ignore the turtle in the left image below). I don't know what the loose accessories were.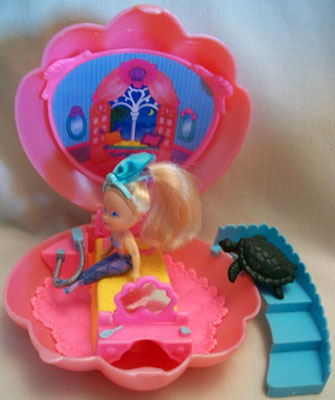 Wedding Party
The Wedding Party came with a bride doll, groom doll, wedding cake and a water slide attachment for the case. There were two colour variations of the bride doll and the pair also came as black dolls.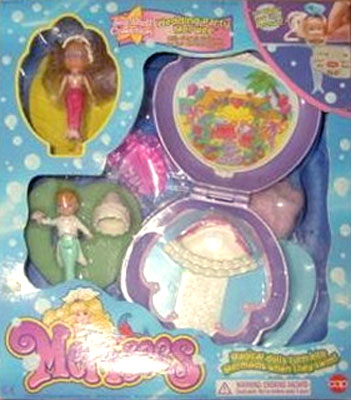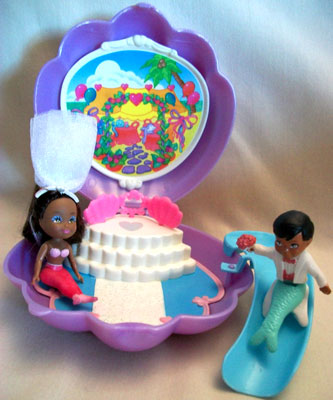 Large Playset
There was one large playset produced.
Rainbow Waterfall
The Rainbow Waterfall playset came with one doll and several loose accessories, including a clam shell, swan boat, net puff, brush and comb. It also came with three suckers so it could be attached to the bath. The playset had a palm tree swing, vanity mirror and palm tree pump. The pump would suck up water from the bath to make the waterfall cascade and a rainbow appear.
Playsets Dolls
There were at least two versions of four of the small playsets dolls. Below are images of all the dolls I have come across for comparison. Each doll had a different attached hair piece related to its theme, so are easy to place in their correct case. Over time the colour-changing paint can wear off to reveal the plastic underneath, which should not to be confused with actual colour variations.
Bubble Bath Doll
Beach Party
Beach Cafe
Wedding Party - Groom
There was just one version of the large playset doll, who came with a colour-changing tail.
Rainbow Waterfall
For Sale