Bubble Belles :: Dolls
"Enter the world of Bubble Belles, where lovely little girls' lives are filled with sparkling swans, fancy fish and brightly coloured flowers. Bubble Belles... as dreamy as a bubble drifting through the sky..."
Bubble Belles were produced by Kenner in 1990 and were dolls which came with inflatable accessories for bath time fun and were a very short lived series. The dolls were made re-using Kenner's Rose Petal Place doll molds.
[eBay links are sponsored]
Images on this page thanks to Batty Collector, Totally Jem, katehartxoxo and a couple of unknown sources!
Dolls with Playsets
"Little girls can turn bath time into fantasy fun time with Bubble Belles dolls and inflatable toys. Each beautiful 7" doll comes with a comb and accessory for their silky hair, a fun bathing suit to splash around in and an inflatable toy companion to be their best friend."
There were four Bubble Belle dolls produced, three with small inflatable toys and one with a large inflatable playset. There was also one separately sold inflatable toy and a few cosmetic accessories. The back packaging below shows the entire line.
The dolls were made from the same mould as Kenner's Rose Petal Place and had shimmery legs. Each doll came with an inflatable toy, bathing suit, comb and hair accessory.
Flora, Coral, Seabrina and Pearl*
Coral & Her Sunfish
"Coral enjoys an afternoon swim with her sunfish."
Flora & Her Flower
"Flora relaxes on her beautiful flower."
Pearl & Her Floating Swan
"Pearl rides her lovely swan."
The swan appears to have been produced in two colour variations.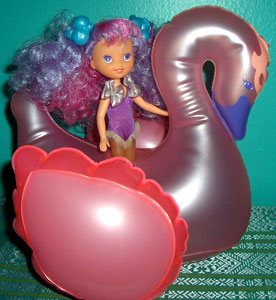 Sea Spray Castle with Seabrina
"Seabrina presides over the wonderful Sea Spray Castle with its pretty spraying fountain. Comb and style her lovely hair and splash around with her seahorse friend, who doubles as a bottle of bubble bath. Squeeze the bellows for a pretty fountain or fun shower for Seabrina."
The playset included Seabrina wearing a bathing suit, an inflatable castle with shower mechanism, a comb, a hair clip and an ounce bottle of bubble bath.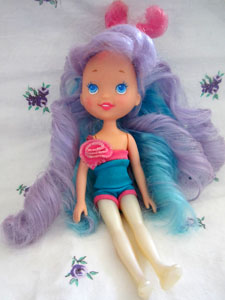 For Sale