PJ Sparkles :: Accessories
"Hug me and I light up with love!"
PJ Sparkles was produced by Mattel in 1988-1991. They were a series of large dolls with glowing accessories plus animal friends and an animated video. There were lots of other dolls produced around this time which bore a striking resemblance to one another, and are easy to misidentify at first glance.
PJ Sparkles was reissued in 2004 by Forever Young (at least one doll), and again in 2009 by Zizzle with one large doll and several small playsets with mini light-up dolls.
[eBay links are sponsored]
Images on this page thanks to Eden Eye or found on eBay!
Accessories
I've not found many accessories.
Wishing Star Crown / Bed
"A sparkling crown for girls to wear - or a bed for PJ Sparkles and her friends! Pink vacuum metalized crown allows girls to sparkle just like PJ Sparkles! Crown has colourful "jewels" that light up when girls wear it, or when they place an 11 inch PJ Sparkles doll, or friend, inside. Crown has a soft satiny purple lining and comes with a matching pillow for doll play."
I've never seen this item on the secondhand market so don't know if it ever made it into the shops.
Videos
There was one animated film made of PJ Sparkles. I don't know of any books or other items.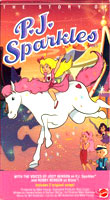 For Sale