Backpack Club :: Cool Adventure Packs
"Backpacks full of fun and surprises!"
Backpack Club were produced by Galoob in 1997-98 and were a small line of five-inch poseable dolls wearing backpack playsets. There were also larger backpack playsets for the dolls to play inside and large enough for a child to wear. All items are quite hard to find.
Images on this page thanks to eBay
sellers missalayneys
, misscandi66
, goldentoytong
, mrsst75
, marblecupcake
, 4monstersonly and C and C Treasure Cove
!
View all Backpack Club on eBay.com
or eBay.co.uk
!
Cool Adventure Backpacks
"A fun-to-go playset you can wear!"
There were three large plastic backpacks that a child could actually wear which opened into adventure playsets. No dolls were included.
Fashion Fun Mall
Slumber Party
Stylin' Salon
Fashion Fun Mall
"Your Backpack Club friends love to go shopping at the mall! They want to be sure they're wearing the latest fashions. You can go too, and help your new friends shop for clothes and jewellery - and maybe even a new backpack!"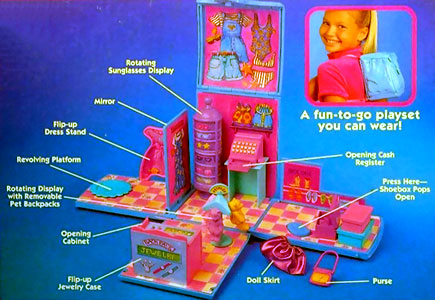 Slumber Party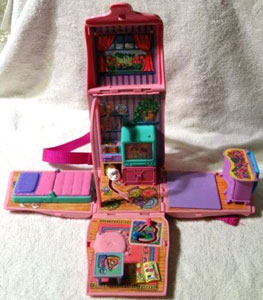 Stylin' Salon
Deluxe Cool Adventure Backpack
The wearable Secret Clubhouse was a deluxe backpack that opened into a multi-level doll playhouse with elevator, fold-down bed, swing, sailboard, and canoe. No dolls were included.
The top level floors extended upward once the backpack was opened.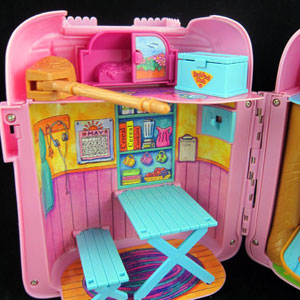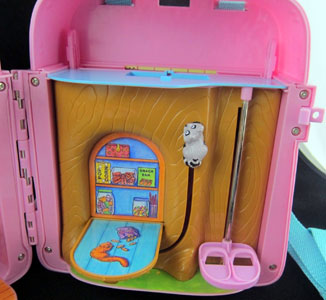 For Sale
View all Backpack Club on eBay.com
or eBay.co.uk
!
Backpack Club

:: Comments