Cherry Merry Muffin :: Fashion
"Sweet smelling world of muffin magic!"
Cherry Merry Muffin were produced in 1988-1990 by Mattel and were 6.5 inches high dolls, scented like their names (like Strawberry Shortcake). Along with the dolls and their accessories, there were also playsets, fashion wear and miniatures made.
[eBay links are sponsored]
Images on this page to Etsy sellers ThePinkRoom & ellies80stoybox, and eBay sellers abcdolls, hotwheelsarethebesttoyever & adolladaystl!
Fashions
"Fashions designed especially for sweet smelling dolls who love fashion fun! Cherry Merry Muffin doll's new wardrobe is perfect for all her busy activities. She's a beautiful bride in her wedding gown. In her bathing suit she's off to the beach for some sunny fun! Her pretty nightgown makes going to sleep a dream come true, and in her cheery chef's out?t she's ready to cook a tasty treat for her friends!"
There were four Cherry Merry Muffin fashions released in 1989/90.
Kitchen Fun
Splashin' Fun Sunsuit
Merry Wedding Dress
Sweet Slumber Nightie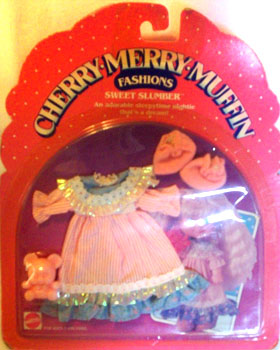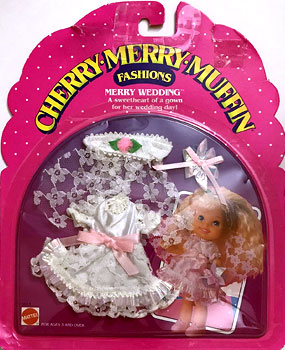 Sundae Sleeper
"It's Cherry Merry Muffin ice cream sundae slumber party! Soft quilted ice cream cone is a doll-sized bag, a carrying case that holds 2 dolls, or a carry-along for girls. Includes real ice cream topping and a Cherry Merry Muffin nightgown, too!"
There was also one outfit included in the Sundae Sleeper set from 1990. The double sleeping bag fit two dolls, and could also be carried around by its little handle.
Outfits with Dolls
"She loves to bake sweet treats by day & dream sweet dreams at night."
Kitchen Fun and Sweet Slumber were also sold with a 3rd series doll under the title "Kitchen Fun Doll".
The Merry Wedding set was sold worn by 2nd series CMM with the gift set version of the Wedding Cake 'N Party playset.
For Sale