Cherry Merry Muffin :: Miniatures
"Sweet smelling world of muffin magic!"
Cherry Merry Muffin were produced in 1988-1990 by Mattel and were 6.5 inches high dolls, scented like their names (like Strawberry Shortcake). Along with the dolls and their accessories, there were also playsets, fashion wear and miniatures made.
[eBay links are sponsored]
Images on this page thanks to Electra, Miss Leonie, Oldtoys-on-line, Lulu Berlu, Etsy sellers OgreberryCottage & HappyCenturion, and eBay sellers Dennis Collectibles Dolls And Toys, kristi97, southsixthstreetsales & adolladaystl!
Miniatures
"18 sweet-smelling miniatures with homes of their own! These 2-1/2" dolls are perfect for collecting and for providing hours of miniature play. Each individually sculpted figure has her own colourfully painted out?t and comes with one of 5 different houses she fits inside: An ice cream soda, a layer cake, a milk carton, a cupcake cottage, or an ice cream cone. Houses have doors that open and close!"
Eighteen different Cherry Merry Muffin miniatures were released, six in 1988 and twelve in 1989. Each miniature was about two inches tall and strongly scented. They had a very glossy finish and were quite detailed. Each one came packaged with its own food-themed home.
As with 1988-89 dolls, the miniatures from 1988 have ribbons in their hair, and the 1989 miniatures have cake hats.
There were two playsets produced for the miniatures in 1989.
1st Series
There were six miniatures produced in 1988. Each had a bow in their hair.
Cherry Merry Muffin
Holding Cherry Sweet
Holding a muffin pan
Apple Amy
Banancy
Betty Berry
Chocolottie
2nd Series
There were twelve miniatures produced in 1989 (two versions of each character). Each had a cake hat. The six miniatures from 1988 also returned making eighteen in all.
Cherry Merry Muffin
Pushing a tea cart full of pink cupcakes
Standing with yellow dog
Bubblegum Becky
Holding a basket of apples in one hand
Holding a yellow kitten in her arms
Chocolottie
Holding basket with a bunny inside
Wearing pink rollerskates
Greta Grape
Standing with a kitten beside her
Pushing a buggy
Lily Vanilly
Holding a rose, wearing ballet slippers
Standing with a lamb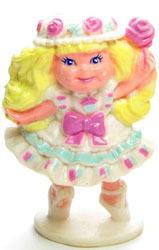 Penny Peppermint
Holding a cup, saucer and teapot
Holding a yellow lollipop
Collectors Set
"Now little girls can collect 6 dainty Cherry Merry miniatures at once! Lily Vanilly, Chocolottie, Penny Peppermint, Bubblegum Becky, Cherry Merry Muffin, and Betty Berry dolls have individual scents, poses and colourfully painted outfits."
The collectors set contained one doll from the first series and five from the second.
Cherry Merry Muffin
Betty Berry (S1)
Bubblegum Becky
Chocolottie
Lily Vanilly
Penny Peppermint
Miniature Playsets
There were two different miniature playsets produced in 1989.
Cherry-Go-Round Carousel
"Wind-up, whirl-around fun! Cherry Merry Muffin miniature dolls can often be found riding with friends on the Cherry-Go- Round. Dolls ?t inside colourful hanging cupcake tins that rotate. No batteries needed! Delightful, detailed sculpting makes the Cherry-Go-Round carousel a great place to display, and play, with muffin doll miniatures."
No dolls were included.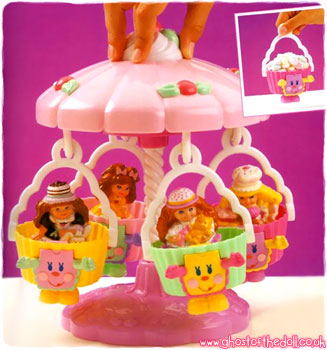 Cupcake Café
"Colourful cafe has lots of fun surprises for Cherry Merry Muffin miniatures! Includes play sodas, snacks, and a jukebox too! Working features provide hours of fun. Door springs open. Trays flips over and "food" appears. Jukebox record spins. Cash register pops up. Over 13 play pieces! Set folds up and everything stores inside. Easy-carry handle for take-along fun."
No dolls were included.
Houses
There were two house designs in the first series.
Three more houses were added in the second series.
For Sale