Glo Friends :: Playsets
"Glo Friends glow for hours!"
Glo Friends were produced by Hasbro and Playskool from 1982 into the late eighties. Along with the large plush Glo Worm, there were a series small glow-in-the-dark insects and other small creatures, plus books, cartoons and other various accessories.
Images on this page thanks to Titi-Chan in Wonderland, or found on eBay, with thanks to various sellers!
Playsets
There was at least one one playset produced for the miniature figures to play in. Musical Glo Land came with its own special Glo Friend called Glo Bedbug, who was not sold seperatly.
Musical Glo-Land
"The Musical Glo-Land playset is a special place for Glo-Friends to get together. Set includes outdoor table, swing, other moveable pieces and Glo-Bedbug...a fun pal available only with the playset."
| | |
| --- | --- |
| | |
| Musical Glo-Land | Glo Bedbug |
Pull-along Toys
There were at least two pull-along toys produced. Glo Turtle opened up at the side and could hold a couple Glo Friends inside and came with Glo Hopper. Glo Dragonfly was only released on a small scale making it vary rare and hard to find. It came with Glo Shuttlebug. Both the Glo Friends were also released seperatly.
Glo Turtle
"Give your Glo-Frineds a ride with Glo-Turtle and his buddy Glo-Hopper. You can fit up to four Glo-Friends in Glo-Turtle's shell and push or pull them along. Glo-Turtle's face and Glo-Hopper glow in the dark for those nighttime rides."
I've found one colour variation of the turtle.
| | | |
| --- | --- | --- |
| | | |
| Turtle | Turtle [Variation] | Glo Hopper |
Glo Dragonfly
Glo Dragonfly was produced in two variations; one with glowed-in-the-dark legs, and one without.
| | | |
| --- | --- | --- |
| | | |
| Dragonflyer - None-Glow | Dragonflyer - Glow-in-the Dark | Glo Shuttlebug |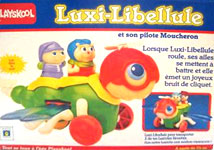 For Sale