Glo Friends :: Plush
"Glo Friends glow for hours!"
Glo Friends were produced by Hasbro and Playskool from 1982 into the late eighties. Along with the large plush Glo Worm, there were a series small glow-in-the-dark insects and other small creatures, plus books, cartoons and other various accessories.
[eBay links are sponsored]
Images on this page found on eBay, with thanks to various sellers!
Plush
There were lots of plush Glo Friends produced. They had plastic faces and fabric bodies which hid a battery pack. When hugged their faces would light up. There were quite a few different styles (which I have grouped together).
Glo-Worm
"Huggable Glo-Worm glimmers with happiness every time toddlers lovingly squeeze his cuddly tummy. Children never need be afraid of the dark...smiling Glo-Worm makes the perfect 'night light' or carry-around companion."
Musical Glo-Worm
"Musical Glo-Worm, ready for bed in his nightshirt and cap, plays a lullabye when children hug him."
Baby Glow-Worm
"Wide-eyed Baby Glow-Worm slips into a sleepy pose with a flip of her nightcap. Hug her, she glows."
Other Plush
Flannel Fabric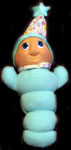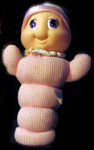 Parachute Fabric
Various
Glo Friends
For Sale