Golden Girl :: Books
"Adventure heroines against evil!"
Golden Girl and the Guardians of the Gemstone were produced by Galoob in 1985. The series featured nine female and two male characters which were produced as small dolls. There was also three sets of fashion, two horses and a few playsets. It was a short lived series and ceased manufacturing after only one year.
[eBay links are sponsored]
Images on this page thanks to various eBay sellers!
Books
These were a few story and activity books produced.
Find Your Own Fate Books
Crystal of Doom
Land of Dreams
Vanishing Unicorn
Activity Books [Happy House]
A Colouring and Activity Book
A Story to Colour
Dragon Queen Casts a Spell - A Story to Colour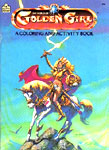 Story Books [Tele-Story]
Beware the Spider's Bite
Still Waters Run Dangerous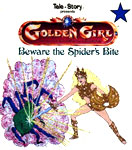 Story Books [Randam House]
For Sale