Golden Girl :: Playsets
"Adventure heroines against evil!"
Golden Girl and the Guardians of the Gemstone were produced by Galoob in 1985. The series featured nine female and two male characters which were produced as small dolls. There was also three sets of fashion, two horses and a few playsets. It was a short lived series and ceased manufacturing after only one year.
[eBay links are sponsored]
Images on this page thanks to Pablo, Eliza Frye, and eBay seller anderbr!
Playsets
There were two playsets produced and two chariots.
The Palace of Gems
"Enchanting castle of light and power for exciting Golden Girl adventures!"
Includes:
Torch that is real working flashlight

Revolving secret panel to hidden room

Swinging dungeon door

Castle flaps

Hitching post

Water trough

Throne table

Jewel chest

Gem throne

Weapons rack

Sheild that becomes vanity
"This exciting play environment has everything you would expect in a real castle and more! Real working drawbride. lighted torch, secret trap door, dungeon. weapons rack, treasure chest, and a throne for Golden Girl. The castle exterior is richly detailed in a stone motif and adorned with gold colored railings, window frames, ?ag poles, and a colourful dome above the torch. All this folds up neatly into a carrying case with room for lots of ?gures and accessories."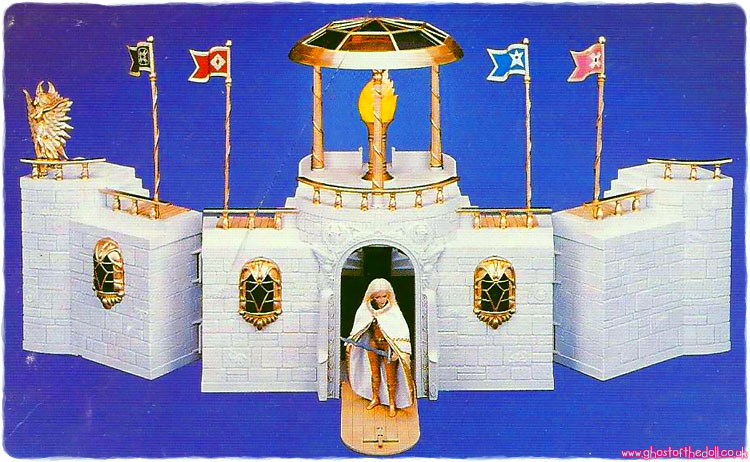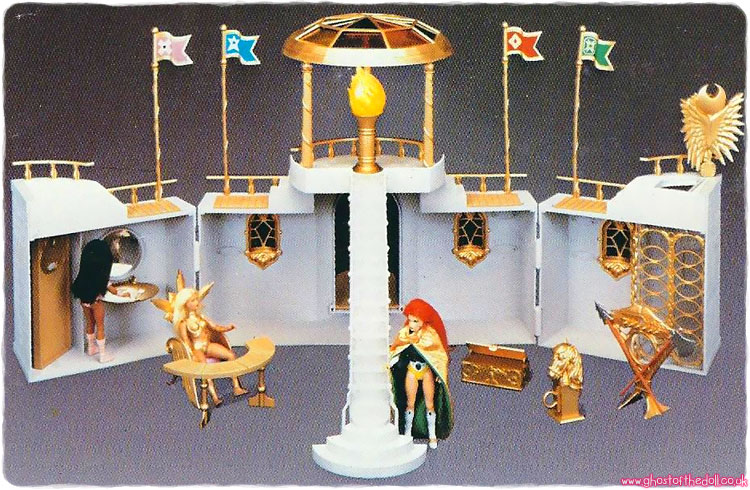 Dream Tent
"Now Golden Girl and her entourage can travel in the luxurious accommodations of the courts of old. These beautifully detailed tents capture the romance of ages gone by and yet suit the practical needs of our heroine and her Guardians of the Gemstones. Each tent sleeps two Golden Girl ?gures and comes complete with a lovely throw rug and soft pillow. The sturdy plastic frame and durable satinesque fabric will provide hours of comfortable shelter for those forays into the wilds of Argonia."
There were four Dream Tents. I've only ever seen this in the 1985 Galoob catalogue, so perhaps wasn't very popular.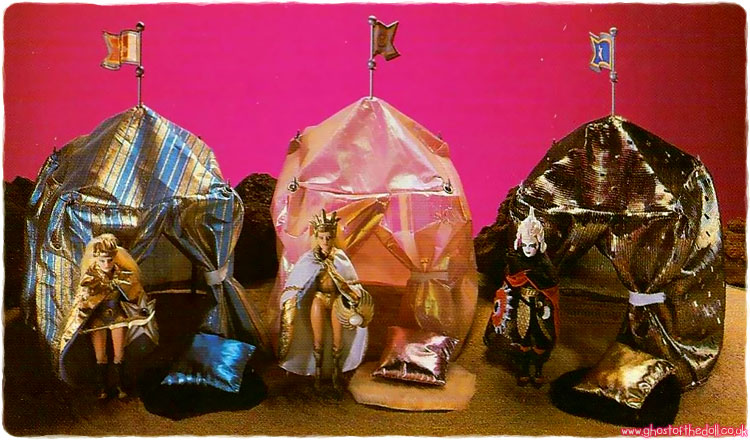 Horse, Unicorn & Chariots
There was one horse and one unicorn produced; Olympia for Golden Girl and Shadow for Dragon Queen. Shadow had light-up eyes and gem (on forehead) and Olympia had light-up eyes and horn. They both came with a saddle, saddle blanket, bridle, hoof decorations, mask (Shadow only) and a brush.
Both horses were also released with a Chariot.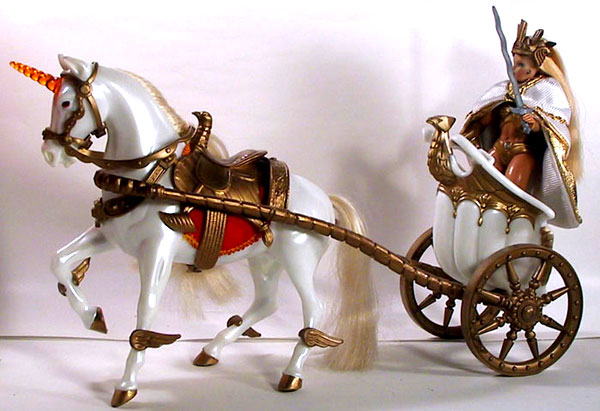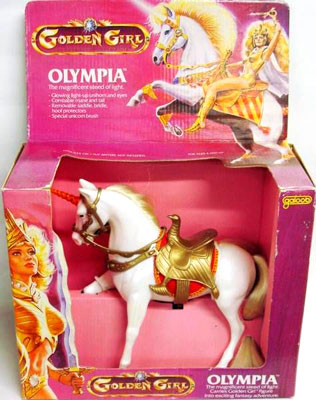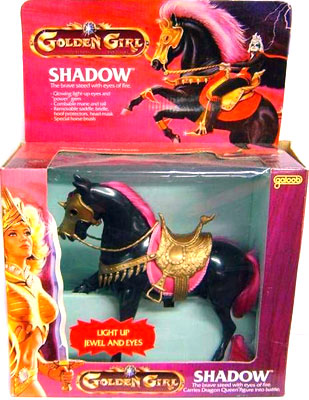 For Sale