Golden Girl :: Dolls
"Adventure heroines against evil!"
Golden Girl and the Guardians of the Gemstone were produced by Galoob in 1985 and was series six inch action figures specificaly aimed at girls. There was also three sets of fashion, two horses and two playets playsets. It was a short lived series and ceased manufacturing after only one year with no more additions made than the original release.
[eBay links are sponsored]
Images on this page thanks to Lulu Berlu, Pablo, YouTube user MyTwisterpunktde, and various eBay sellers!
Dolls
"Golden Girl and the Guardians of the Gemstone is the ?rst action ?gure concept designed speci?cally for a previously overlooked market segment that comprises a full third of action figure sales - today's young girls. We made no compromises in the development of these beautifully styled six inch ?gures. Each one of these eleven fully articulated action figures, five wicked villians and six defenders of virtue, has long colourful rooted hair for combing and styling.
"As if being beautiful was not enough, we gave each figure its own costume, weapon, and gem studded shield that may be worn as a broach. All these features combine with a line of 27 separate fashion out?ts, 2 horse and chariot sets, and an amazing castle/play environment to make Golden Girl and the Guardians of the Gemstone the most exciting introduction of 1985."
There were eleven dolls produced, nine female dolls and two males.
The Guardians and Prince Kroma
Each doll came with a shield, reversible cape, removable headdress, weapon, weapon belt and a comb. There were six good-guys.
| | | |
| --- | --- | --- |
| | | |
| Prince Kroma | Rubee | Saphire |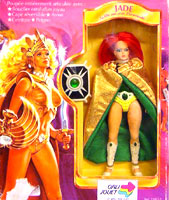 The Evil Forces and The Barbarians
Each doll came with a shield, reversible cape, removable headdress, weapon, weapon belt and a comb. There were five bad-guys.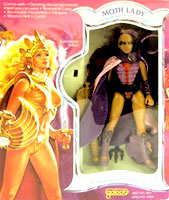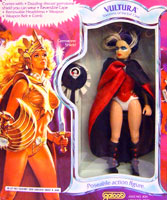 Stories
Back packaging had descriptions of each character.
Golden Girl ~ PRINCESS OF THE GEMSTONE GUARDIANS

Only this blond beauty was strong enough to win the Argonia competitions against Dragon Queen. A gentle leader, Golden Girl - along with her lovely and able Guardians - faces constant conflict with Dragon Queen, who is too evil to accept defeat. Even with the amazing power from her magical Gemstone shield and sword - as well as the help from her magnificent steed, Olympia - Golden Girl is always on guard against any attack. But will she always be able to defend Argonia's people...and to protect its precious, powerful Gemstone?
Jade ~ MYSTIC OF THE SECRET JEWELS

This green-eyed warrior hails from Emraline Island. Jade is a beautiful and brave fighter whose broadsword works together with her mystical insights to defeat practically any enemy. But, even with the power of her Secret Jewels, can this trusted Gemstone Guardian stand against the forces of Dragon Queen?
Onyx ~ CHALLENGER OF THE SABER
This champion swordswoman, from the Isle of Dunes, is a dual challenge to the forces from Storm Isle and the Northlands...and no wonder. Her boomerang-like throwing-stones slice through the air with deadly accuracy, then return to their sender. Onyx also conquers enemies with her Dune-saber. She is truly "double trouble" for the armies of Ogra and Dragon Queen.
Ruby ~ FIERY CHAMPION OF THE LIGHTNING BOW

An amber-haired beauty from Fire Island, Rubee is an expert archer. She uses her silver Lightning Bow, with fire-tipped Lightning Arrows, to protect her fellow Guardians and other friends. Of course, she also uses it to help keep the Gemstone safe from the clutches of Dragon Queen and her wicked forces.
Saphire ~ POWER-MISTRESS OF THE SEA AND SKY

This lovely warrior's home is with the Sea Folk of the Cluster Islands. Saphire has the special ability to communicate with all creatures of the sea, and of the sky. And from them she receives amazing strength, which helps her prevail against the Forces of Dragon Queen.
Prince Kroma ~ BRAVE, DARING & HEROIC LORD OF BATTLE

Joining with Golden Girl's Guardians, gallant Prince Kroma fiercely battles to defend Argonia and its Gemstone from Dragon Queen's forces. The fighting rages, but the greatest battle - the Duel of the Ancients, when Prince Kroma will clash with the Barbarian Warlord Ogra - is yet to be fought. Will Prince Kroma survive this clash against his avowed enemy, to continue the fight for Argonia, and to protect the power of the Gemstone?
Dragon Queen ~ RULER OF THE EVIL FORCES

Defeated by Golden Girl in their Contest for the Gemstone, Dragon Queen retreated to the abandoned Storm Island...where she now rules over her own Dragon Kingdom. She and her trusted followers are cruel, yet strong and smart. They are as capable of dark magic as they are mean. Certainly, her wicked warriors might one day steal the precious Gemstone, thereby getting sufficient power to conquer the people of Argonia...and, perhaps, even Golden Girl herself.
Moth Lady ~ WINGED WITCH OF THE NIGHT

This nimble master of Dark Magic receives special skills and speed from her wings, each thread of which has been woven from the cocoon fibers that surrounded Moth Lady when she was born. Moth Lady holds high favour with Dragon Queen on Storm Isle. Together, are they strong enough to conquer Golden Girl and her fellow Guardians of Argonia's Gemstone?
Ogra ~ SKULL-MASKED BARBARIAN WARLORD

As leader of the Barbarian Hordes, Ogra joins Dragon Queen on Storm Isle; there they and their evil forces plot the invasion of Argonia. This mean and powerful warlord meets his match in Prince Kroma, time and time again. But the Duel of the Ancients is yet to be fought. Will Ogra succeed in defeating this valiant protector of Argonia, and in claiming victory for Dragon Queen?
Vultura ~ SORCERESS OF THE CLAW

Everything about Vultura is wicked and mean, from her appearance to her nature. She is one of the stronger and more formidable of Dragon Queen's followers. The "Clutch" of her Claw, and her mastery of the "Strike", are greatly feared...and for all the right reasons. Vultura spends most of her spare hours sharpening the Claw, and her other tools of witchcraft. Her ultimate aspiration is to Clutch the precious Gemstone away from Golden Girl's Guardians, during Dragon Queen's eventual invasion of Argonia.
Wild One ~ FIERCE BARBARIAN HUNTRESS.

Wild One haunts the ever-challenging Northlands with her Battle Axe and Battle Shield. She is as swift, as sure-sighted, and as agile as the savage animals she befriends (or fights). This beautiful barbarian puts her knowledge of the wilderness to use attacking Golden Girl - and warring alongside Dragon Queen's army against the powers opposing them.
For Sale