Herself the Elf :: Playsets
"Adorable elves who help nature run... with magical wands that make them more fun!"
Herself the Elf was produced by Mattel under license of American Greetings Corporation from 1982. The series included small poseable dolls (very similar to Strawberry Shortcake), playsets, animation and various accessories.
Original booklet images on this page thanks to Prancetron!
Playsets
There were three playsets produced.
Flower House
"Flower House looks like a flower with petals when closed, but open it up and see all it holds."
Included:
bud couch
petal lamp
pop-up umbrella table
two flower bowls
two flower glasses
two tree trunk chairs
a swinging flower hammock
tinkling elf chimes
Flower Shower
"Flower Shower sprinkles elves as good as dew. Working shower and petal tub lets them soak and scrub just like you. removable shower, comb and bathing suit."
Included:
removable shower
comb
bathing suit
Flower Vanity
"Flower Vanity is where Herself and her friends wash their faces and do their hair, before they go anywhere."
Included:
daisy swivel mirror
leaf sink
butterfly comb
terry towel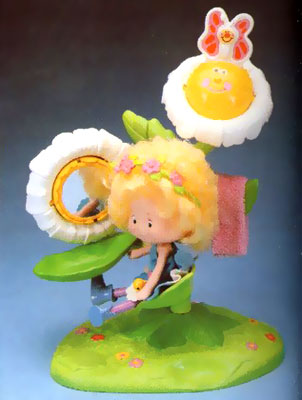 For Sale