Victoria Plum :: Dolls
"A doll to fall in love with."
Victoria Plum started life in the early 1980's as a large series of illustrated story books by the well know English TV journalist Angela Rippon. The main character of Victoria Plum was then merchandised as dolls (by Telitoy & Dakin), along with puzzles, fabric and several other items.
[eBay links are sponsored]
Images on this page found on eBay, with thanks to various sellers including on.e.bay1, cherryco2, tnt_toys_n_treasures, purpleangel730, bodiammanor, bodiammanor, maddy31053, man_of_spiders, 282521, pearlharbor1, mags2016 & lrek2207!
Dolls
There were a few different dolls produced.
Soft Bodied Dolls
There were two versions of the cloth doll, one in red and one in blue. They were about 9 inches high and had removable hats and shoes. Their bodies were fabric with plastic hands and head.
They were released by Telitoy in the UK, and by Dakin in the US who simply stuck their own name on the boxes over the top of Telitoy.
Poseable Dolls
The poseable dolls were about 5 1/2 inches high and came with a little squirrel or hedgehog.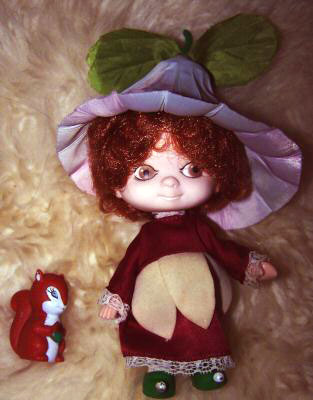 There were two types of packaging.

There was also a purple-dressed version which had moulded on shoes, dated 1981.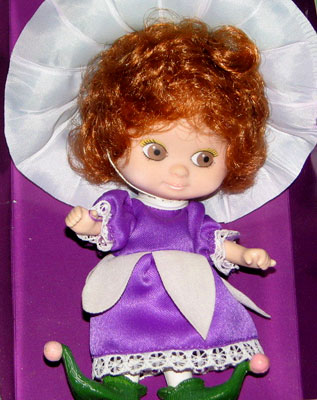 Victoria Plum's friend Benjamin was also produced.
I also came across this sleeping bag, which is the right size for one of the poseable dolls to fit it.
Non-Poseable Dolls
The non-posable dolls were about 7 inches high. I've found two tyles, neither of which came with shoes. The had slightly flat heads from the side.
Bendable Dolls
Bendable dolls were about 5 inches high.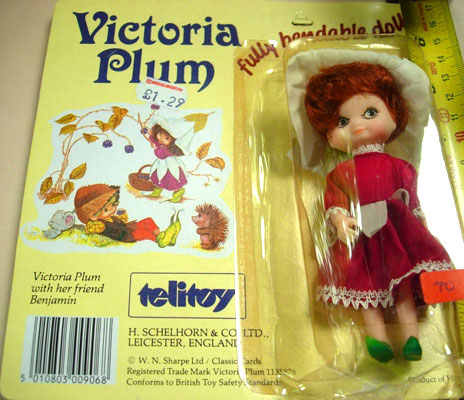 Clip-On Dolls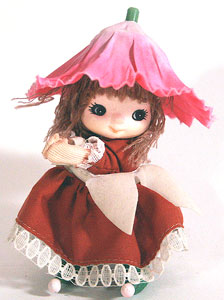 Similar Dolls
There were several dolls produced using the same posable doll mould as Victoria Plum & Benjamin, right down to their shoes. They are often sold on the secondhand market as part of this line, or mistaken for original Strawberry Shortcake dolls. They are part of a line called "Scented Daisy", nothing to do with Victoria Plum.
They had heart shaped pupils, petal dresses made from the same material as VP's hat, and flowers in their hair. Shown below with Benjamin for comparison. I've also seen one with yarn hair, so there may have been another name for these dolls too.
For Sale