Victoria Plum :: Books
"A doll to fall in love with."
Victoria Plum started life in the early 1980's as a large series of illustrated story books by the well know English TV journalist Angela Rippon. The main character of Victoria Plum was then merchandised as dolls (by Telitoy & Dakin), along with puzzles, fabric and several other items.
[eBay links are sponsored]
Images on this page found on eBay, with thanks to various sellers!
Books
There were lots of illustrated books written by Angel Rippon. These are the ones I know of.
Story Books [hardback & softback]
Victoria and the Lost Moonbeam
Victoria and the Prickly Hedgehog
Victoria and the Unwelcome Visitor
Victoria Plum at the Seaside
Victoria Plum Gives Ben a Surprise
Victoria Gives a Flying Lesson
Victoria Goes Fishing
Victoria Plum Goes House Hunting
Victoria Plum Plants a Garden
Victoria Plum Story Book
Victoria Plum's Adventures
Victoria Plum's Toys
Victoria's Snowflake Net
Storytime with Victoria Plum
| | | | |
| --- | --- | --- | --- |
| | | | |
| Lost Moonbeam | Prickly Hedgehog | Unwelcome Visitor | At The Seaside |
| | | |
| --- | --- | --- |
| | | |
| Gives Ben a Surprise | Flying Lesson | Fishing |
| | | |
| --- | --- | --- |
| | | |
| Goes House Hunting | Plants a Garden | Story Book |
| | | | |
| --- | --- | --- | --- |
| | [no image] | | |
| Adventures | Toys | Snowflake Net | Storytime |
Board Books (also sold as hardback)
Victoria Plum and the Little Bird
Victoria's Surprise Party
Victoria Has a Visitor
Victoria Plum Goes on a Picnic
Victoria Plum On the Farm
| | |
| --- | --- |
| | |
| Surprise Party | On The Farm |
Rag Books
Victoria Plum Rainy Day Book
Annuals
| | | |
| --- | --- | --- |
| | | |
| Annual 1982 | Annual 1983 | Annual 1985 |
Shape Books
Victoria Plum and the Magic Spell
Victoria Plum on Sports Day
Victoria Plum and her Woodland Friends
| | | |
| --- | --- | --- |
| | | |
| Magic Spell | Sports Day | Woodland Friends |
Learn with Victoria Plum
Learn with Victoria Plum
Victoria Plum's 1 2 3
Victoria Plum's Flowers
Victoria Plum's Trees
Victoria Plum's Woodland Animals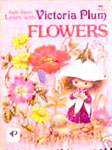 Pop-up Books
Victoria Plum's Garden
Victoria Plum's Seaside Adventure
Activity Books
Doll Dressing Book
Sticker Album
Paint & Trace Book - Victoria Goes House Hunting
Paint & Trace Book - Victoria Has a Party
| | | | |
| --- | --- | --- | --- |
| | | | |
| Doll Dressing | Sticker Album | House Hunting | Party |
For Sale