Hugga Bunch :: Accessories
"Promise to hug at least once a day... With each hug you get, give two away!"
Hugga Bunch was produced by Hallmark and Kenner, and originally started as characters on greeting cards. Eventually they rose to be a big hit in the early to mid 1980's and soon Hugga Bunch came in the form of books, dolls, clothes, toys, lunchboxes, and even a movie!
[eBay links are sponsored]
Images on this page found on eBay, with thanks to various sellers!
Accessories
There was quite a range of sewing patterns produced, as well as various other household items.
Sewing Patterns
Each one of the Hugga Bunch came as a printed image on cotton sewing pattern.
Printed Cotton Sewing Patterns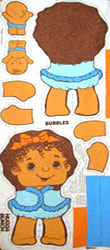 Plush Sewing Patterns
There were also patterns for making plush
Cross Stitch Pattern Book
You could also buy a book full of cross-stich! Patterns included were:
Precious Hugs
I Hop For Hugs
I'm Fit To Be hugged
Tickles
I Go For Hugs
Bubbles
Hugs Give You A Lift
Patooty
Hughsy
The Whole Hugga Bunch
Impkins
Huggins
Hugworks
Tweaker
Precious Hugs (sitting)
Hug Me If You (Heart) Me
Fill Your Holidays With Hugs
Hugs Are The Nicest Gifts
Other Items
There were a selection of other items produced also.
Bedding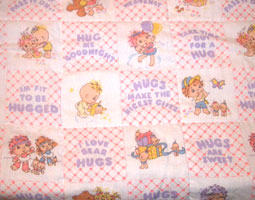 Various Items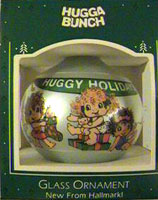 For Sale