Hugga Bunch :: Books
"Promise to hug at least once a day... With each hug you get, give two away!"
Hugga Bunch was produced by Hallmark and Kenner, and originally started as characters on greeting cards. Eventually they rose to be a big hit in the early to mid 1980's and soon Hugga Bunch came in the form of books, dolls, clothes, toys, lunchboxes, and even a movie!
[eBay links are sponsored]
Images on this page found on eBay, with thanks to various sellers!
Books
There were several story books published.
Parker Brother Story Books (1985)
A Hugga Bunch Hello by Phyllis Fair Cowell
Bridget visits Huggaland and finds a way of keeping her grandmother from going to a nursing home.
A Hug for a New Friend by Janet Anderson
Anxious about her new babysitter, Sarah visits Huggaland and learns that "Hugs make friends and friends make hugs".
Huggins and Kisses by Susan Creighton
Mary's new puppy, Kisses, seems to be more trouble than he's worth, until a creature from Huggaland shows her how to deal with naughty puppies
A Hug Is for Happiness [board book]
A Happy Birthday Hug by Janet Anderson
Betsy feels terrible about eating her brother's birthday candy bar, until the Hugga Bunch members help her discover that hugs heal hurt and bring forgiveness.

Comics
There were (I think) 6 issues of the Hugga Bunch comic published.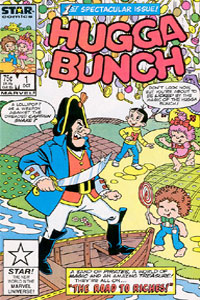 Videos
The Hugga Bunch movie was a real life puppet film and there were also animated cartoons.
Hugga Bunch Movie
1984, 55 minutes. Starring Gennie James and the Hugga Bunch puppet characters.
"Bridget and the HUGGA BUNCH journey to Huggaland in search of a solution that will keep Bridget's Grams from leaving. Together they seek the wisdom of the Book Worm, Huggaland's smartest character, and begin a fantastic adventure!"
Also included was a special bonus program, The Making of Hugga Bunch, an exciting behind-the-scenes look at how this award-winning program was created.
For Sale