Li'l Miss :: Accessories
"My makeup appears like magic!"
Li'l Miss were produced by Mattel in 1989-1993. They were a series of large 13" dolls with colour-change features, activated using cold water. There was also a set of smaller 7" Wee Li'l Miss dolls with similar features, fashion outfits and a few playsets for both size dolls. There were lots of other dolls produced around this time which bore a striking resemblance to one another, and are easy to misidentify at first glance.
Images on this page thanks to Amazon
seller simplygracies books and eBay sellers Vogue To Vintage, adi1122, AudreysDolls and TreasureThis TreasureThat!
Accessories
McDonalds produced a set of Happy Meals called Totally Toy Holiday in 1993, which included little figures of several well known toy lines of the time.
Avon produced (via mattel) at least one Wee Li'l Miss Mini doll in 1992. It measured 5" tall and was poseable.
There was also a paper doll book.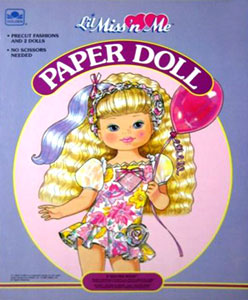 For Sale