Li'l Miss :: Playsets
"My makeup appears like magic!"
Li'l Miss were produced by Mattel in 1989-1993. They were a series of large 13" dolls with colour-change features, activated using cold water. There was also a set of smaller 7" Wee Li'l Miss dolls with similar features, fashion outfits and a few playsets for both size dolls. There were lots of other dolls produced around this time which bore a striking resemblance to one another, and are easy to misidentify at first glance.
[eBay links are sponsored]
Images on this page thanks to mmosk09, nhtpirate, Dineia, eBay sellers toymania azer58, Polly's Dolls and Collectibles or found on Amazon!
Li'l Miss ~ Playsets
There was at least one playset produced for the large Li'l Miss dolls.
"Li'l Miss make-believe magic moves into a little girl's world of real hair fashion and fun! This first Li'l Miss accessory makes a take-apart transformation for double the play value! It's a mirrored vanity complete with removable skirt, flip-up drawer; and vanity stool for Li'l Miss dolls - or it's a mirror, brush, comb, and storage container for a little girl! Ruffled trim on vanity stool is a hair decoration for little girls. Vanity skirt also doubles as a skirt for a Li'l Miss doll!"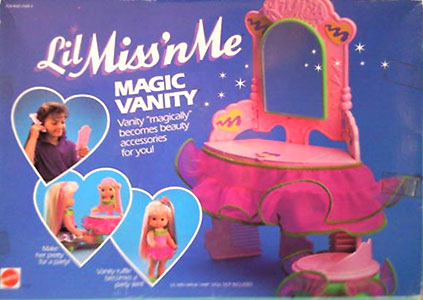 Wee Li'l Miss ~ Playsets
There were at least three playsets produced for the Wee Li'l Miss dolls in 1990.
Beach Fun
Beauty Salon
Bed
Beach Fun
Beauty Salon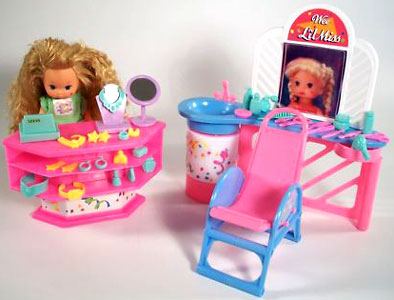 Wee Li'l Miss Bed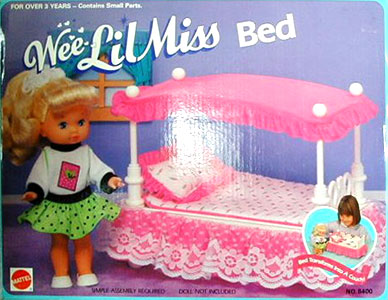 For Sale