Moondreamers :: Unproduced Toys
"Brighten up your dreams!"
Moondreamers were produced by Hasbro in 1986, and were very short lived. The dolls were all outfitted in a celestial theme, using lots of lamé and metallic fabrics as well as glow in the dark elements. In addition, their hair glowed in the dark, and they all had stars in their eyes. Each doll also came with a figure stand and jewel necklace. Later releases came with "Dreamtails" instead of jewel necklaces. It is interesting to note that the Hasbro catalogue for 1988 had many new Moonrreamer dolls and accessories which were never produced, a great source of wonder for Moondreamer collectors! As well as the dolls, there was an animation, accessories, playsets, books and an annual.
[eBay links are sponsored]
All images on this page are from Hasbro catalogues.
Unproduced Toys
The 1988 Hasbo Catalogue has several pages of new Moondreamer toys which were never produced. This included new charaterers and possible even playsets although these weren't pictured).
Moondreamers
"New friends join the Moondreamers to brighten children's dreams. Moondust organizes star production and distribution to keep the night twinkling brightly, Nightingale fills the night with lullabies, Startiste creates beautiful light spectacles in the starry sky and Glitzy Gleamer is the glamorous light show hostess in the Starry Up. Each fully clothed doll has glow-in-the-dark hair, clothing trim and accessories."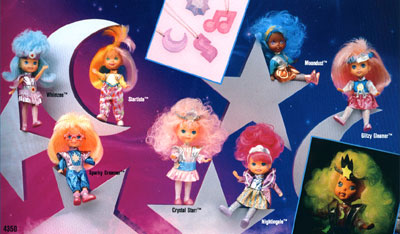 Sun Sparklers
"Moondreamers friends to bright the day! Sunsparklers make each day sunny and beautiful for children on Earth! Sundazzle polishes the sun, Fundreamer creates happy daydreams for children, Daystar supervises each sunny day and Cloudpuff makes pretty cloud designs in the sky. Each fully clothed Sunsparkler doll has hair and accessories that change color in the sun!"
Sun Finders
"Dawn and her pal, Bunnyhop the rabbit, find the sun each morning and carry it over the horizon. Dusky and her dog, Sunscout, roll the sun to where it's supposed to set at the end of each day. Dolls have hair and accessories that change color in the sun! Animal friends have features that change color in the sun, too!"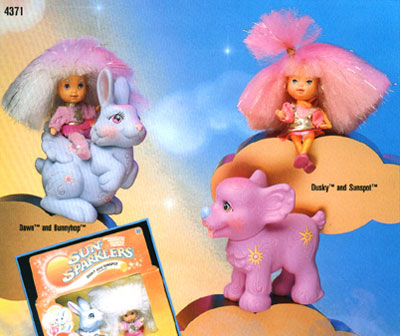 Star Finders
"New friends join the Star Finders. Frolic and her peacock pal, Fluffin, are ready to explore the uncharted universe. Stardust and her friend, Hornsby the ram, look for lonely planets in need of stars. Dolls have glow-in-the-dark features! Animals have glow-in-the-dark features, too!"
For Sale