My Pretty Mermaids :: Playsets & Fashion
"If you find the end of a beautiful rainbow, you'll find a magical place . . .
the enchanted home beneath the sea where My Pretty Mermaids live!"
My Pretty Mermaids were produced by Hasbro Playskool in 1991. They were a series of dolls with long brushable hair and sea-themed accessories. They had poseable fins to allow them stand or sit and were decorated with secret name designs on their fins that appeared in cold water.
[eBay links are sponsored]
Images on this page thanks to kittygirl07, Amanda and eBay sellers Brainys Toys and Collectibles & timmytoys!
Playsets
There were two playsets produced. East set came with a few little items, but no dolls.
| | |
| --- | --- |
| | |
| Sea Bubbles Bathtub | Sea Dreams Waterbed |
Fashion Treasures
"Open the Fashion Treasures secret compartment and inside you'll find either a ring or a bracelet surprise for YOU to wear!"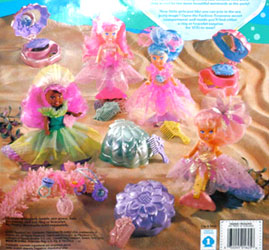 There were four sets of Fashion Treasures. Each set included:
Dress
Hair Accessory
Treasure Chest
Bracelet or Ring
Comb
| | | | |
| --- | --- | --- | --- |
| | | [no image] | [no image] |
| Fashion Treasures - Set 1 | Fashion Treasures - Set 2 | Fashion Treasures - Set 3 | Fashion Treasures - Set 4 |
Rings and Bracelets
Packaging
| | | | |
| --- | --- | --- | --- |
| | | | |
| Fashion Treasures - Set 1 | Fashion Treasures - Set 2 | Fashion Treasures - Set 3 | Fashion Treasures - Set 4 |
For Sale