Mystic Babies :: Playsets
"Discover the secret world of baby dragons!"
Mystic Babies were produced by Mega in 2008-9. They were a series of colourful plastic baby dragons with brushable hair. The original sets came in eggs which transformed into little playsets.
[eBay links are sponsored]
Images on this page found on Amazon
and eBay, with thanks to various sellers!
Playsets
There were two playsets produced that I know of.
Wardrobe
The Wardrobe playset comprised of an egg which opened into (you've guessed it) a wardrobe! It also included four outfits and a brush.
Train
The Train playset included a musical engine (which moved with the aid of batteries) and two wagons (which were also part of two egg houses), three mini sized dragons, three small accessories (guitar, brush and ball?) and s scenic board.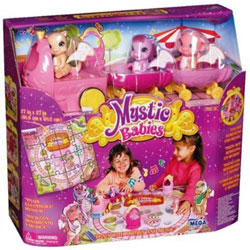 For Sale