Oodles :: Accessories
"Did ya ever meet an Oodle? They're little bundoodles of joy that bring kaboodles of fun!"
Oodles were produced in mid to late 1980's by LJN Toys. They were a series of 48 baby powder scented, small plastic baby doll figures. They were numbered one to forty eight. They were all made in a different pose and had a little loop on their heads so they could be strung together. They each came with a collectors card.
[eBay links are sponsored]
Images on this page from LJN Toy's brochure, thanks to Mel Birnkrant's Toys!
Accessories
There were three Oodles accessories.
Oodles Photo Album
"Special promotional offer for the 'Collectaboodles' Card Album. Holds 48 'Collectaboodles' Cards."
Oodles Bracelet
"Special Oodles bracelet makes it convenient for little girls to carry their Oodles around. Just attach the Oodle right onto the bracelet by the Oodleloop on top of each Oodle."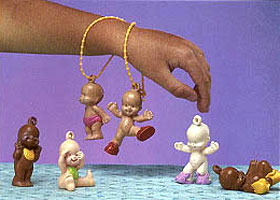 Oodles Carry Along Purse
"Little girls can carry their whole collection of Oodles in their Oodle Carry Along Purse."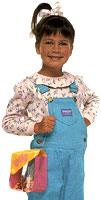 Playsets
"The Oodles Playset offers the little Oodles collector the perfect scenario to play with her Oodles. This 10 3/4" high rotating ferris wheel is activated by a turning knob in the centre. Simply attach oodles to the six rings by their Oodleloops and watch 'em turn around!"
There was one Oodles playset.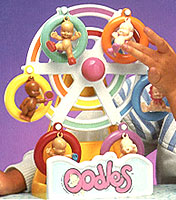 For Sale