Princess of the Flowers :: Playsets
"Every Princess of the Flowers lives in a timeless place where wishes and dreams come true! It's an enchanted garden where each magical flower holds a secret surprise inside."
Princes of the Flowers were produced by Yes! from 1992-95, and Europe by Ideal. Each plastic flower opened up with special key to reveal a 3" poseable doll and small playset within. There was also a smaller series of baskets and at least two large playsets produced. Some sets were also produced for sale in various European countries in colaboration with Lollipop and Ideal.
I currently know of one name variation:
US: Princess of the Flowers
Euro: Secret Princess
[eBay links are sponsored]
Images on this page thanks to Cobralily, ToyStable and eBay seller kreatobergas, fair0722 and Dennis Collectibles Dolls And Toys!
Playsets
I know of two playsets. Neither came with dolls or pets.
Blooming Hair Salon
"Basket of flowers opens to become a beauty shop!"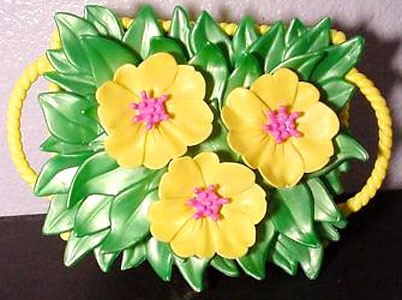 Fantasy Pony Carriage
"Princess of the Flowers enchanted garden is a place where wishes and dreams come true. Your Princess will ride in style on her winged Fantasy Pony or in her beautiful carriage. It begins with a turn of the special key, when the flower magically blossoms to become and enchanted carriage. Fantasy Pony's wings move gracefully as you pull the carriage throughout the garden. Tale your Princess for a magical ride!"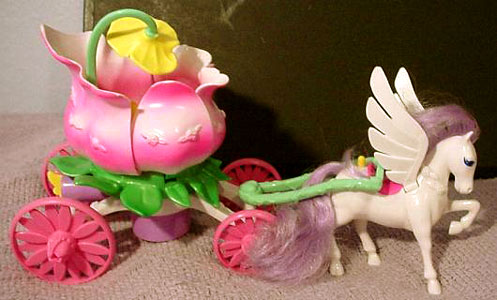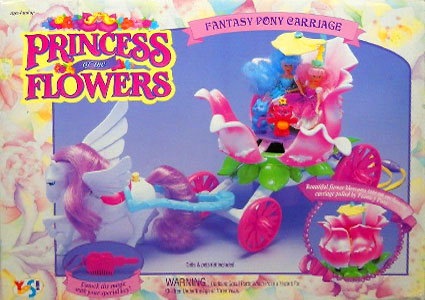 This packaging was produced by Yes!/ Ideal for sale around Europe under the name "Secret Princess".
For Sale