Quints Cousins :: Playsets
"The Quints Cousins are here! Pretty hair to style! Cool 3-in-1 fashions! And they're the perfect babysitters for the Quints!"
Quints were produced by Tyco in the early 1990's. They were a series of tiny quints dolls with loads of accessories, fashions and playsets to collect. There were also sets of teenage doll triplets to babysit the quints, who had fashions and playsets of their own.
They were sold in the US, Australia, UK and other parts of Europe under varying names:
UK & US: Quints
Italy: Bidibodi
Images on this page thanks to Van Keer M and eBay sellers the_whittlewoman, virgo_dental_gal, ferrarigiocattoli, gilbe-niema, miquels5 & gr8stuff61!
Quints Cousins
There were five sets of triplets (one set was produced with both white dolls and black dolls, so only four sets were ever shown in publicity shots), five sets of fashions and six (possibly seven) playsets.
Playsets
"3-in-1 Fun!"
There were six playsets for the cousins, plus one which may not have been produced for sale. None came with dolls.
Bicycle Built for 3
This playset included:
Bicycle for three cousins with a cart for the quints
3 helmets
3 bum bags (fanny packs)
3 pairs of cycle shorts
3 pairs of shoes
This is the Italian packaging.
The back of the box also showed the Fashion Closet and Shopping Cart.
Care 'n Curl Salon
This set included:
Chairs for 3
Stools for 3 (with stool for the quints when flipped over)
Basin for 3 (with mirror for 3 on the back)
3 hairdryers
3 combs
3 pairs of scissors
3 bibs
3 hand mirrors
3 pairs of hair curlers
various cardboard cutouts of salon items
Fashion Closet for 3
"For 3-in-1 dress-up fun!"
This set included:
Wardrobe with two doors and one drawer
3 hats
3 hat stands
3 belts
3 pairs of shoes
3-in-1 hanger
Back packaging included images of the Bicycle and Shopping Cart playsets.
Ice Cream Stand for 3
This set included:
Ice cream stand for 3
3 seats
Menu board
3-in-1 coverups
Ice cream and serving pieces
Back packaging included images of the Salon and Bed playsets.
Shopping Cart for 3
This set included:
Shopping cart with seating for the quints
3 grocery bags
3 shoulder bags
Various grocery items
This is the Italian packaging.
Back packaging included images of the Fashion Closet and Bicycle playsets.
Sleepover Bed for 3
Under the main bed is a pull out bed for the Quints.
Triple Fun Ponies
"When we're really good, we visit our favourite ponies!"
I haven't been able to find any boxed or loose images of this playset, so may not have been produced or only as a small run. This image is from the leaflet.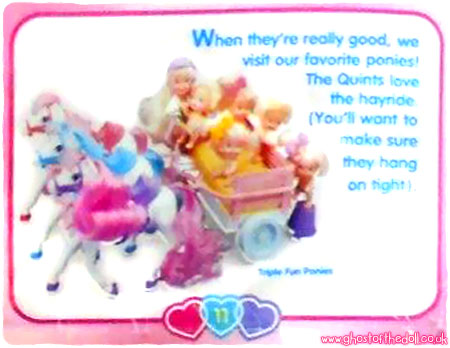 For Sale