She-Ra :: Dolls [1986]
"The most exciting and powerful woman in the universe!"
She-Ra: Princess of Power toys were produced by Mattel from 1984-87. Each doll was 5-1/2 inches tall with brushable hair and came with various clothing and accessories. There were also winged horses which the dolls could ride along with several other animals, playsets, fashions and many other accessories for little girls to use plus an animated cartoon series. The line was discontinued in 1987.
[eBay links are sponsored]
Images on this page are from various Mattel Catalogues, thanks to Nht Pirate or found on eBay!
Dolls [1986]
"Introducing glamorous new Princess of Power dolls that are as exciting as they are beautiful. They all have special action features, so children can pretend that they fly through the skies of Etheria or have wonderful magical powers. She-Ra's friends are Perfuma, the scent-sational flower maiden; Flutterina, the beautiful 'flying' lookout; SweetBee, a honey of a guide; PeekaBlue, a watchful "feathered" friend; and Mermista, a mist-i-fying mermaid. Scratchin' Sound Catra's mischievous friends are Entrapta, a tricky golden beauty and Clawdeen, a glamorous cat."
There were eight dolls produced in 1986. She-ra and Catra were re-released along with five new goodies and one new baddie. Every doll in the second series came with a different coloured shield and matching comb, mini-comic and various pieces of clothing.
Starburst She-Ra
Flutterina
Scratchin' Sound Catra
Entrapta
Starburst She-Ra
"Now the most powerful woman in the universe has a cape that opens to a burst of shimmering stars! When her arms are down, children can pretend that she's the beautiful Princess Adora, wearing a lovely pink cape. When there's trouble in Etheria, children can pretend that she raises her sword over her head and becomes Starburst She-Ra. With her magnificent cape of stars, Starburst She-Ra is ready to defend Etheria!"
Starburst Cape (light pink or dark pink)
White Net Skirt
Head Crown
Pink Shield
Pink Sword with Star Sticker
Pink Comb
Mini-comic 'Across the Crystal Light Barrier'
The Dutch version came with a cassette tape.
Flutterina
"Beautiful look out "flies" with fluttering wings! A pull cord on her back would make her wings flutter."
Lilac Net Skirt
Gold Choker
Butterfly Wings Backpack
Orange Shield
Orange Comb
Mini-comic 'A Most Unpleasant Present'
Mermista
"Mist-I-flying mermaid! Make her spray water! "
The shell on her back sprayed water through her necklace when squeezed.
Mermaid Tail Bottoms
Green Shell
Green Shield
Green Comb
Mini-comic 'A Fishy Business'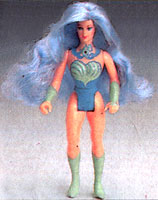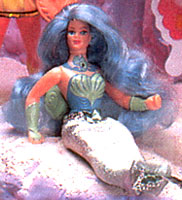 Peekablue
"Watchful feathered friend! Fan her "feathers" and she sees all!"
Her feather backpack could open and close by a lever at the back.
Gold Skirt
Feather Backpack
Blue Shield
Blue Comb
Mini-comic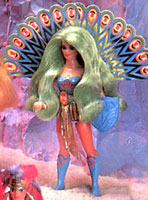 Perfuma
"Scent-sational flower maiden! Make her flower bloom. Smell her perfume!"
Her pink flower backpack popped up when the lever was pushed.
Pink Dress
Pink Flower Backpack
Light Green Shield
Light Green Comb
SweetBee
"Honey of a guide! Antennas and turn-around wings glow in the dark!"
Yellow Net Skirt
Yellow & Black Choker,
Pink Glow-in-the-dark Antennae Headpiece
Gold Glittery Reversible Wings
Yellow Shield
Yellow Comb
Mini-comic 'A Born Champion'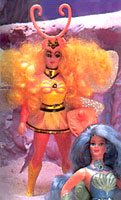 Scratchin' Sound Catra
" Jealous beauty! Hear her "scratch" when you move her arms!"
A lever on her back would move her arm up and down whilst she made a scratching sound.
Gray Fury Skirt
Red Cat Mask
Silver Cat Shield
Silver Comb
Mini-comic 'A Born Champion'
Entrapta
"Tricky golden beauty! With hair that traps!"
Gold Collar
Pink/Purple Skirt
Gold Head Band
Purple Shield
Purple Comb
Mini-comic 'A Born Champion'
Combs, Shields and Swords
Pink Comb
She-Ra
Silver Comb
Catra
Purple Comb
Entrapta
Orange Comb
Flutterina
Green Comb
Mermista
Blue Comb
Peekablue
Light Green Comb
Perfuma
Yellow Comb
Sweet Bee
Pink Shield
She-Ra
Silver Shield
Catra
Purple Shield
Entrapta
Orange Shield
Flutterina
Green Shield
Mermista
Blue Shield
Peekablue
Light Green Shield
Perfuma
Yellow Shield
Sweet Bee
Pink Sword
She-Ra
Back Packaging
For Sale