She-Ra :: Playsets
"The most exciting and powerful woman in the universe!"
She-Ra: Princess of Power toys were produced by Mattel from 1984-87. Each doll was 5-1/2 inches tall with brushable hair and came with various clothing and accessories. There were also winged horses which the dolls could ride along with several other animals, playsets, fashions and many other accessories for little girls to use plus an animated cartoon series. The line was discontinued in 1987.
[eBay links are sponsored]
Images on this page are from various Mattel Catalogues!
Playsets
There was one playset produced in 1984.
Crystal Castle
"This is the home of She-Ra. An enchanted castle, it's the centre of many exerting adventures in Etheria. To delight children, there are lots of intriguing features. There's a throne that can rise from the lower floor to the castle top. a treasure chest lilted with 'disappearing jewels' and elegant furniture in every room."
Crystal Falls
There was one playset produced in 1986.
"It's a refreshing water wonderland for She-Ra and her friends! In the fantasy world of Etheria this is the home of Mermista doll and one of She-Ra doll's favourite places. According to legend, Crystal Falls has the power to rejuvenate those who bathe in its magical waters. This enchanting playset includes eight accessories and has a hand pump that makes water flow continuously from a lovely "orchid." Children will be fascinated with its beauty and many fun features, including a large "mirror." shell shaped lounge and pool, towel bar and hook. Crystal Falls also comes with a cushion, towel, comb, brush, hand mirror, two goblets and bottle."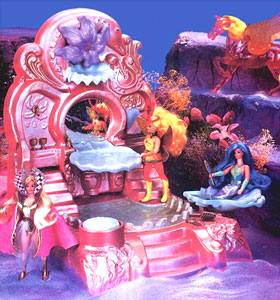 Unproduced ~ Bubble Carriage
There was one playset left unproduced in 1987 after the series was discontinued.
For Sale