Strawberry Shortcake :: Playsets
"Welcome to the world of Strawberry Shortcake!"
Strawberry Shortcake was produced by Kenner in 1979-1985. and was a series of scented dolls with pets which wore a hat, dress, and stripy socks. There were 21 characters in total, and the line became so popular that it led to the production of hundreds of other products, including video games, sticker albums, clothes, movies and much more. Strawberry Shortcake was re-issued in 1991, again in 2002 and are still going strong today.
[eBay links are sponsored]
Images on this page thanks to Renee!
Playsets ~ For Regular Dolls
There were several playsets produced for the regular dolls.
Berry-Cycle & Butterfly
"A great way to get around Strawberryland. A charming three wheeler with a seat belt for the doll and a basket in back to hold a pet."
"His name's Flutter-Bit and he has two seats to take two of the kids from Strawberryland for a ride. He flutters his colourful see-through wings when you squeeze the lever under his tail or when you roll him along the ground."
Berry Bake Shoppe
"Closed it's berry pretty carrying case for Strawberry Shortcake dolls. Open, it's a bakery complete with strawberries which "grow", and oven that opens, a mixing bowel, pots and pretend pies. It even has a stand to sell the delicious looking pretend pies and strawberries! Garden accessories for growing pretend strawberries include watering can, shovel, rake and basket."
Berry Happy Home
"This enchanting doll house has all the magic of Strawberryland built right in. It's three stories high, brightly and daintily decorated and has berry special features like a mail box that opens, Dutch door, a bright yellow porch swing...even an attic playroom with a secret fold down staircase and lots more fun. The Berry Happy Home is simple to assemble and comes unfinished or furnished with a special selection of furniture. There are many different furniture sets to decorate the Berry Happy Home. All the furniture is specially designed with opening doors and soft upholstery. Basic, Builder and Deluxe Furniture Sets available."
Berry Merry Worm
"What a fun way to travel in Strawberryland. This jaunty fellow's name is Philbert Wormly III and he goes up and down like an inch worm when you push him. Strap a doll in the saddle, put a pet or two in the side baskets and watch them inch along."
Snail Cart
"Take the Strawberry Shortcake dolls for a picnic...pulled by the snail whose head moves from side to side. The basket turns into a picnic table, and the big strawberry opens to reveal a mountain of pretend ice cream, two plates, spoons and scoops of ice cream. The strawberry's top can be used as an umbrella for the picnic table."
Big Berry Trolley
"Everyone in Strawberryland wants a ride on the Big Berry Trolley. There is a destination sign and a token box on the front...and a bell you can ring on the rear. It wobbles merrily as it rolls along and the bright daisy on top spins around."
Carrousel
"Pushing up and down on the sunflower knob sets this brightly coloured merry-go-round spinning with four Strawberry Shortcake dolls."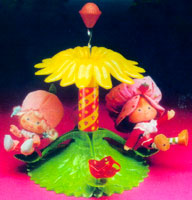 Garden House
"This delightful little vine covered gazebo is the perfect place for a pretend garden party. There's a cupboard with hangers for keeping hats and outfits...and a pretend barbeque, two chairs, a table and two cozy hammocks, just right for a nap."
Maple Stirrup and the Oatsmobile
"Giddyep!"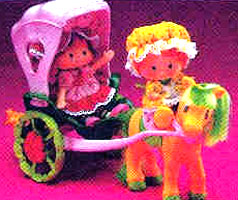 Carry Case
"The big red strawberry is perfect for carrying four friends and their pets from Strawberryland."
Fig Boot
"The cutest little purple beasty with one big foot print!"
Not strictly a playset, but I didn't know where else to place him!
Playsets ~ For Berry Baby Dolls
There were two small playsets for the Berry Babies.
Berry Baby Buggy & Berry Baby Bassinet
"Take them for a ride in the Berry Baby Buggy, rock them in the Berry Baby Bassinet."
Berry Wear ~ For Regular Dolls
There were twelve different fashion outfits produced for the regular dolls, and even some for their pets!
For Sale