Bouncin' Babies :: Big Sister 'n Baby
"The dolls that really move!"
Bouncin' Babies, Kids, Ponies, Princesses and Big Sisters were produced by Galoob in 1988-90. Each doll or pony could move in various ways, powered by a battery. Babies and Kids had plenty of playsets, accessories and outfits sold separately as well as the various items they came with. The ponies also had separate carriages but the line ran out of steam before the Princess or big Sister sub-lines took off any further.
They were mainly sold in US, but also in UK and parts of Europe. The French version, called Bebes Boom, was produced by Galoob/Pipo, the Italian version by Galoob/Gig, and the UK version by Rainbow Toys/Galoob. They were also sold in Germany. I've found very few packaging images of the non US version. Other than the language difference, the packaging designs were the same as the US versions.
[eBay links are sponsored]
Images on this page thanks to various eBay sellers, including tinkertoy6620 & prelovedpalace!
Big Sister 'n Baby
There were two sets in this line. Each set included a battery operated 13 inch big sister doll with open-close eyes and a 5 inch baby. The baby would fit into either the shopping cart or stroller and be pushed along, but I'm unsure they had any moving features.
I beleive they were produced as both white and black dolls, all are hard to find.
Big Sister 'n Baby & Their Stroller
"She really walks and pushes her stroller!"
This set came with two dolls, stroller and comb.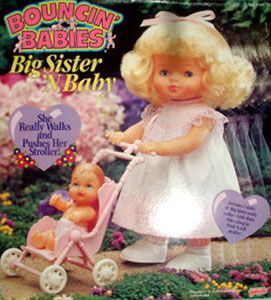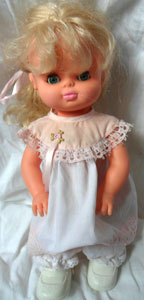 Big Sister 'n Baby & Their Shopping Cart
The Shopping Cart set came with two dolls, shopping cart, comb, cereal box, milk carton, nappy box and laundry detergent box.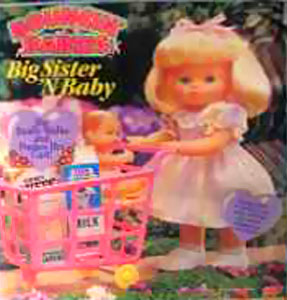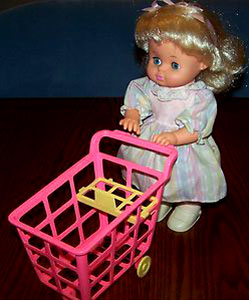 For Sale