Bouncin' Babies :: Playsets & Fashions
"The dolls that really move!"
Bouncin' Babies, Kids, Ponies, Princesses and Big Sisters were produced by Galoob in 1988-90. Each doll or pony could move in various ways, powered by a battery. Babies and Kids had plenty of playsets, accessories and outfits sold separately as well as the various items they came with. The ponies also had separate carriages but the line ran out of steam before the Princess or big Sister sub-lines took off any further.
They were mainly sold in US, but also in UK and parts of Europe. The French version, called Bebes Boom, was produced by Galoob/Pipo, the Italian version by Galoob/Gig, and the UK version by Rainbow Toys/Galoob. They were also sold in Germany. I've found very few packaging images of the non US version. Other than the language difference, the packaging designs were the same as the US versions.
[eBay links are sponsored]
Images on this page thanks to Etsy seller Craftyseller and various eBay sellers, including prillycharmin, pipslife, etphonehomesoon and goldiesoldies!
Playsets
"The adorable little Bouncin' Babies need a mommy just like you to take care of them! You'll want to play with them with these Bouncin' Babies accessories."
Along with the playsets which came with the babies, there were eleven other playsets produced, a carry bag and twelve outfits for the babies. The first six to be produced, (originaly sold in blue logo packaging, then with a pink logo) were:
Soft Carry Bed
Baby Carriage
Baby Stroller
Nursery Playset
Rocking Cradle
Tandem Swing Set

Then six more playsets were added, of which the carry case is the hardest to find:
Deluxe Changing Table
Deluxe Crib
Playpen
Musical Carousel
Soft Carry Case
Sun Lounger

Baby Carriage
"There's nothing as nice as taking little Bouncin' Babies for a stroll in their own special Carriage!"
The top part of the carriage was the same as Crawlin' Baby's carry basket.
Baby Stroller
Nothing extra came with this set.
Deluxe Changing Table
"The Deluxe Changing Table gives you lots of room to care for your Bouncin' Babies. You can change their diapers and store many of their toys and accessories - all in one place."
This set came with a removable changing pad, roly-poly bear and play block.
Deluxe Crib
The Deluxe Crib playset came with mattress, blanket and pillow, It also came with a mobile which clipped to the side of the crib and would turn when the little flower knob was twisted. I've found three colour variations of the mobile. I've also found two packaging variations.
The mobiles came with green, pink or yellow hot air balloons and planes, and pink or green flower knobs.
Musical Carousel
"You'll have lots of fun with your happy babies as they ride the magical, musical Carousel. Just sit them in the swinging seats, pull the string and round 'n round it goes!"
Nursery Playset
"Big play house with lots of removable play accessories. Opens up for easy play access. Closes to store all accessories."
The playset included:
Rocking Cradle
Rocking Horse Chair
Desk
Chair
Dresser
Mirror
Table
This is the only set where the items inside the pink logo packaging and blue logo packaging differed slightly. The pink logo set had a pink cradle, whereas the blue logo set had a blue cradle. No dolls were included.
Playpen
"The playpen gives your babies lots of room to move around in. You'll have fun watching them play in their own special place!"
I've found two packaging designs for this playset.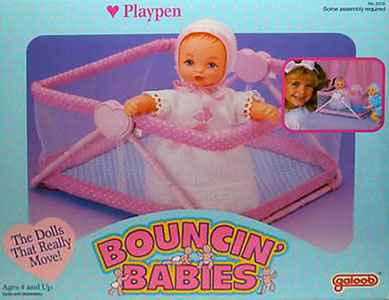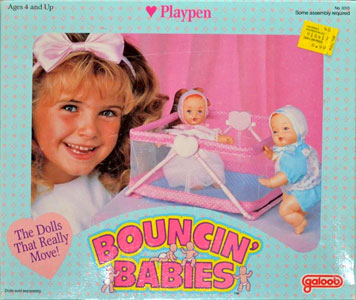 Rocking Cradle
"There's nothing as nice as singing a lullaby to your little Bouncin' Babies as they rock to sleep in their own special Cradle!"
The Rocking Cradle playset came with a blanket and pillow.
Soft Carry Bed
The Soft Carry Bed playset came with a blanket.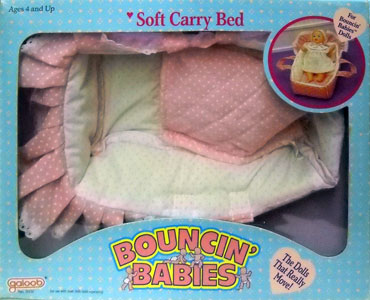 Soft Carry Case
I don't know anything about the Soft Carry Case.
Sun Lounger
"A rockin' relaxin' seat for your Bouncin' Babies dolls! You can put your little babies in the Sun Lounger and rock them to sleep. The sun hood even comes off for when you're feeding or playing with them."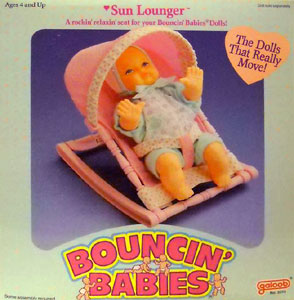 Tandem Swing Set
"You'll want your Bouncin' Babies to have fun playing and swinging together on their own special Tandem Swing Set!"
Fashion
There were twelve outfits produced which included six everyday wear outfits and six special outfits. The everyday wear outfits were the first to be produced, firstly in packaging with a blue logo then with the pink logo.
Everyday Wear Outfits
"You'll want to dress them and show them off in these Bouncin' Babies accessory outfits. There's nothing as cute as little Bouncin' Babies "all dolled up" in their special outfits!"
| | |
| --- | --- |
| | |
| Jump Suit | Nightie |
| | |
| --- | --- |
| | |
| Overalls & T-Shirt | Party Dress |
| | |
| --- | --- |
| | |
| Play Suit | Sun Dress |
Special Outfits
"Dress your babies in these Special Outfits to show your own extra-special kind of caring. Love your Bouncin' Babies - they'll move right into your heart!"
| | |
| --- | --- |
| | |
| Bath Time | Costume Party |
| | |
| --- | --- |
| | |
| Dress Up | Play Outfit |
| | |
| --- | --- |
| | |
| Sweater Set | Sweetheart |
For Sale