Charmkins :: Playsets
"Scented playmates...you'll love to wear around!"
Charmkins were produced in 1983-84 by Hasbro. They were tiny figures or animals, about an inch high and each came with a piece of jewellery, such as a hair comb, necklace or clip. There was also several playsets, various accessories, books and animated videos.
Charmkins were sold in the US, UK and other parts of Europe under varying names:
UK, & US: Charmkins
Italy: Pimpi Rosa
Holland: Dufti's
[eBay links are sponsored]
Images on this thanks to Brown Eyed Rose, Etsy sellers ThePinkRoom, NewellsJewels and various eBay sellers!
Playsets
There were two large playsets produced, plus an unreleased playset which only featured in Hasbro marketing literature.
Jewellery House [1983]
Along with Blossom in Pyjamas and Li'l Tulip in Pajamas, this playset came with:
Bed
Cradle
2 Chairs
Patio Table
Bureau
Love Seat
Basket (for Poppy)
Bird Stand (for Crocus)
Carrying Ring
3 Flowerpots
Fences
Flowers
| | |
| --- | --- |
| | |
| Blossom in PJ's | Lil' Tulip in PJ's |
Whippoorwill Flower Mill [1984]
Along with ChrysantheMum and Whippoorwill , this playset came with:
Comfy Chair
Pot Belly Stove
3 Flower Pots
Picnic Table
Woodbox
Birdbath
Coffee Table
Bird Nest Ring
| | |
| --- | --- |
| | |
| ChrysantheMum | Whippoorwill |
Jewellery Carry Case [1983]
"Carry your Charmkins wherever you go!"
The Jewellery Carry Case was a place to store up to 15 Charmkins plus accessories rather than a playset. It came with a three part fence and a story book. The front folded out to reveal two shelves, a drawer and a garden for the fence.
There was a white version (which discoloured yellow over time), and a pale pink version. Both versions were sold in the US andelsewhere around the world.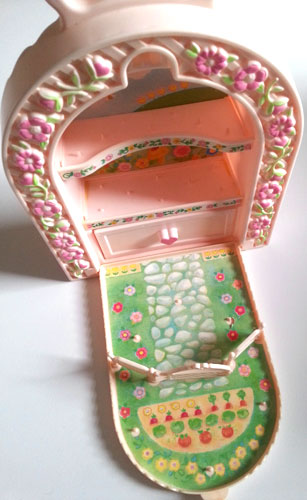 The white version came in a closed box.
The pink version came in an open front box.
Starshine Balloon [Unproduced]
This playset was probably never released on general sale as it has never been seen anywhere other than in publicity material. Along with Bonnie Blue Eyes and Bo Peep Sheep, this playset came with:
Moon Chair
Star Table and Chairs
Cloud Stand
Telescope
Grandfather Clock
Bed
Star Lights
Vanity Mirror on Chest with Removable Drawers
"Up, up, and away! Bonnie Blue Eyes floats gently above the clouds in her beautiful balloon. Inside, Bo Peep Sheep laughs and plays....riding his cloud down the slide, rocking in the moon chair and going up and down in the elevator.
Little girls will love to make Bonnie Blue Eyes climb the ladder and ride in the elevator....pull the star on top and up it comes!
Wear a Charmkin in the heart of the tiara that surrounds the base of the balloon.
Each beautiful star light over the vanity doubles as an earring that can hold a Charmkin, too!
Includes Bonnie Blue Eyes and Bo Peep Sheep, moon chair, star table and chairs, cloud stand, telescope, grandfather clock, bed, star lights, vanity and a chest with removable drawers.
The interior can be revolved to access all the rooms. 10 7/8 x 8 7/8 x 18 1/2 inches"
For Sale