Girl Talk :: Books
"Just for girls!"
Girl Talk was produced by Golden in 1988-93 and were a selection of games for girls all about dating and boys! There was also a series of books and some electrical items too. The original game was also re-designed by Milton Bradley in 1995, as well as versions by Waddingtons for UK (1988), XF Schmid for Germany (1991) and even a PC game.
Images on this page thanks to various eBay sellers!
Books
There were 45 book written by L.E. Blair, printed by Golden Books from 1990-93. Aimed at teenage girls, the books tell the school adventures of four American teenagers in junior high school (Sabrina, Allison, Randy, and Katie) and takes place in the fictional small town of Acorn Falls, Minnesota.
1. Welcome To Junior High
2. Face-Off!
3. The New You
4. Rebel, Rebel
5. It's All In The Stars
6. The Ghost Of Eagle Mountain
7. Odd Couple
8. Stealing The Show
9. Peer Pressure
10. Falling In Like
11. Mixed Feelings
12. Drummer Girl
13. The Winning Team
14. Earth Alert!
15. On The Air
16. Here Comes The Bride
17. Star Quality
18. Keeping The Beat
19. Family Affair
20. Rockin' Class Trip
21. Baby Talk
22. Problem Dad
23. House Party
24. Cousins
25. Horse Fever
26. Beauty Queens
27. Perfect Match
28. Center Stage
29. Family Rules
30. The Bookshop Mystery
31. It's a Scream!
32. Katie's Close Call
33. Randy and the Perfect Boy
34. Allison, Shape Up!
35. Katie and Sabrina's Big Competition
36. Sabrina and the Calf-Raising Disaster
37. Randy's Big Dream
38. Allison To The Rescue
39. Katie and the Impossible Cousins
40. Sabrina Wins Big!
41. Randy and the Great Canoe Race
42. Allison's Baby-Sitting Adventure
43. Katie's Beverly Hills Friend
44. Randy's Big Chance
45. Sabrina and Too Many Boys!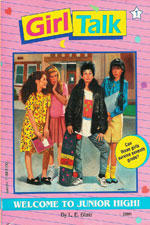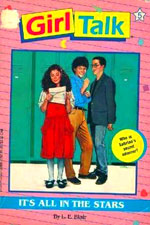 For Sale