Girl Talk :: Secret Diary
"Just for girls!"
Girl Talk was produced by Golden in 1988-93 and were a selection of games for girls all about dating and boys! There was also a series of books and some electrical items too. The original game was also re-designed by Milton Bradley in 1995, as well as versions by Waddingtons for UK (1988), XF Schmid for Germany (1991) and even a PC game.
[eBay links are sponsored] Images on this page thanks to Etsy seller PioneerValleyVintage and eBay seller wesaudio!
Secret Diary - The Game of Sharing Secrets and Surprises
"Secret Diary lets you peek into a real diary while you have fun sharing secrets and getting to know your friends even better!"
Secret Diary was produced in 1991. The game included:
384-Page Diary
96 Calendar Cards
6 Notepads
6 Pencils
Personal & Confidential Envelope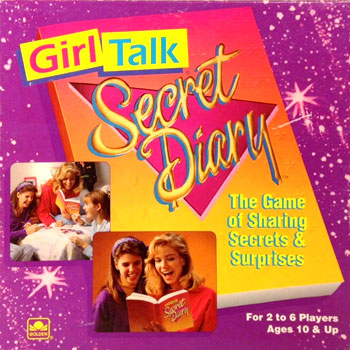 For Sale