Girl Talk :: Other Games
"Just for girls!"
Girl Talk was produced by Golden in 1988-93 and were a selection of games for girls all about dating and boys! There was also a series of books and some electrical items too. The original game was also re-designed by Milton Bradley in 1995, as well as versions by Waddingtons for UK (1988), XF Schmid for Germany (1991) and even a PC game.
Images on this page thanks to Infinite Lives and eBay sellers russtheretrocollector, krunuellua, extravagameza, jigalou, schwarzersteg and kidsware08!
Girl Talk :: Waddingtons [UK]
"The game of giggles, secrets and stunts!"
Waddingtons also produced a Girl Talk game in c.1989/1990 for the UK. It was the same idea in principle, but with different packaging and game tray. I assume the text on the discs and fortune cards was also altered for UK girls. The box included:
Game Tray
Top "Crystal Ball" Disc & Yellow Spinner
2 Spinner Discs
72 Secret Fortune Cards
1 Zit Sticker Sheet
Instruction Sheet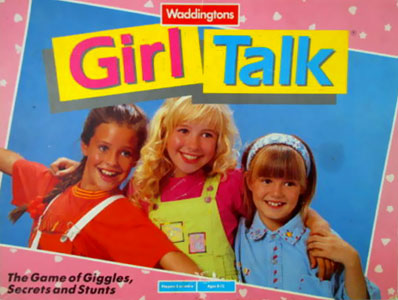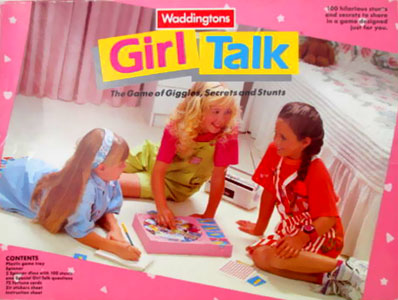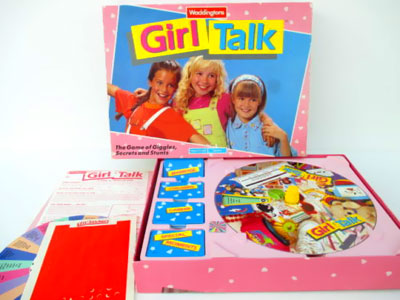 Girl Talk :: FX Schmid [German]
The German version of Girl Talk, produced by FX Schmid (possibly 1991), was quite different to the US version. The spinner discs seem to be the only familiar thing about it, although the game tray is similar to the Waddingtons version above. The aim of the game was to collect points (chips) by completeing the tasks landed on the spinner discs.
Contents (via translation):
Top Spinner
2 Spinners Discs (72 tasks)
64 fate cards
6 future cards
Chips 50 points
6 locking clips
1 stamp
Girl Talk :: Milton Bradley [US]
"Creating bizarre hairdos… sharing secrets about guys you like… and lots more. That's what girl talk is about. Spin the spinner for outrageous stunts to perform and deep questions to answer. Can't go through with a dare? Don't wait to tell the truth? Be ready to put a blazing red zit sticker on your face! To win, be first to get 25 points. Then check out the girl talk cards you've collected, to see just what your friends think of you!"
In 1995, Milton Bradley (now part of Hasbro) re-designed the Girl Talk game again. The game included:
Game Tray
Two Part Spinner Knob
Two 2 Sided Stunt Discs
96 Girl Talk Girl Cards
Zit Sticker Sheet
Instruction Sheet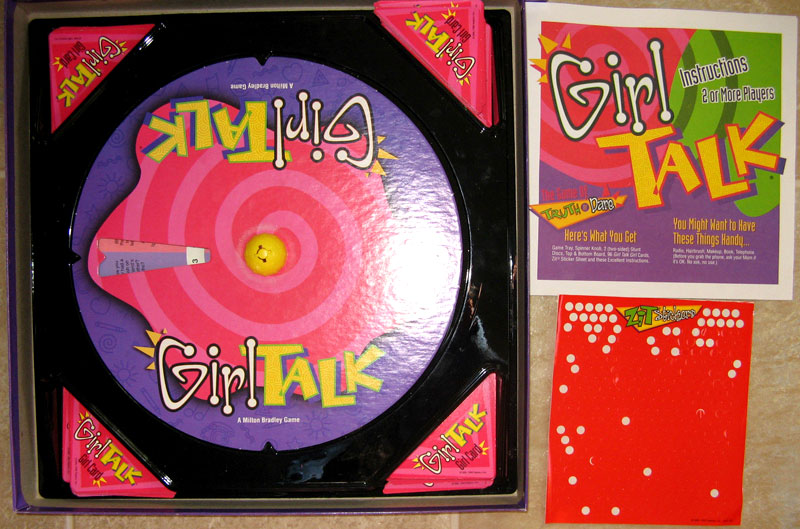 Girl Talk - PC Game
"Based on the hit board game. Explore eight different worlds with the GirlTalk gang. Chat with other girls over the Internet."
Girl Talk, the PC game was produced in 1999 by Hasbro Interactive. The box encluded:
28-page Instruction Manual
Britney Spears Sticker
Registration Card
"Billed as the "CD-ROM Game of Truth or Dare," GirlTalk brings the board game of the same name to your desktop with the background songs of Britney Spears and the Backstreet Boys. Targeted at players eight years and up, the game features a girls-only club, GirlTalk Central, whose members are dedicated to having fun playing this stunt and dare-oriented game.
The object of each game is to reach 25 points first, with five points earned for each correctly completed stunt and a zit for each wrongly executed stunt. A dozen types of stunts are used in the game, ranging from guessing items from word image clues and Simon sound playbacks to flashcard recognition and Truth or Dare questions. Throughout gameplay, you'll be accompanied by four GTC members, Jordan, Juno, Mina and Rio.
GirlTalk takes place in eight unique worlds including Boy Buzz, Home Sweet Home, Time Trip, School Daze, Sports Spin, Styley, Chick Chat and Entertain This! -- all closely related in subject matter to the names. The game support multi-player action for up to four participants via a LAN or the Internet at sites such as the Microsoft Internet Gaming Zone. Same computer play is also available.
The game contains five interactive areas in addition to the Truth or Dare aspect. From the opening screen, five journals can be accessed: My Day (diary), Who's Who (bios), Fortune Teller/I-Ching (special profile about you), Dream On (dream interpreter) and The Best and the Rest (favorite/least favorite lists)."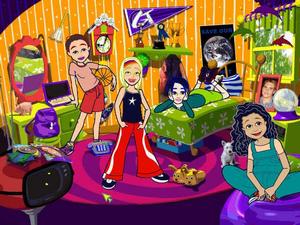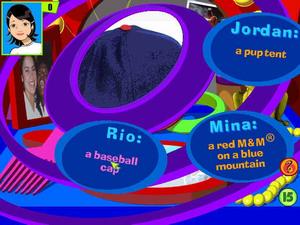 For Sale