Hollywoods :: Accessories
"Cool! My hair changes colour"!
Hollywoods were produced in 1987-88 by Tonka. They were a series of 5 inch dolls with jointed arms, legs and head and had painted-on swim suits, tights (on some) and sandals. They had colour-change hair which changed when warm. There were also a few small playsets and fashions produced.
[eBay links are sponsored]
Images on this page thanks Totally Jem!
Accessories
The 1988 Tonka Toy Catalogue shows one new accessory, but I'm unsure if it was ever released on general sale.
Hollywoods Cool Shades
"The coolest shades - day or night!"
Be cool! Be Hollywoods!
4 hot styles so kids can look as cool as the Hollywoods.
Come with break-away neck strap and sunglasses case.
Lenses are scratch resistant.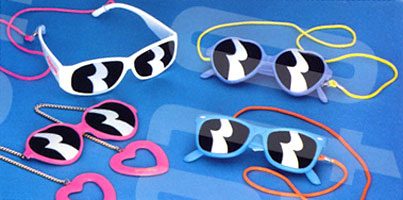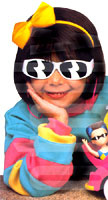 For Sale