Hollywoods :: Dolls
"Cool! My hair changes colour"!
Hollywoods were produced in 1987-88 by Tonka. They were a series of 5 inch dolls with jointed arms, legs and head and had painted-on swim suits, tights (on some) and sandals. They had colour-change hair which changed when warm. There were also a few small playsets and fashions produced.
[eBay links are sponsored]
Images on this page are either mine or thanks to Kim, Totally Jem and various eBay sellers!
Original Set [1987]
Each doll came with a brush and hair ribbon. I believe there were six dolls in the original set.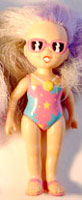 | | |
| --- | --- |
| | |
| UK Packaging | USA Packaging |
Colour-Change [1988]
"The coolest kids under the sun!"
Eight more dolls were added in 1988, including two male dolls (called Woody and Chip). This time they came with one piece of clothing (a shirt for the girls and shorts for the boys), plus a brush each too. The girls also had ribbons in their hair.
New outfits and hair colours: 2 new styles to collect!
High-fashion 5" dolls with trendy sunglasses and colour-change surprise.
Hair changes colour with the warmth of a touch or dip in warm water and changes back again when it cools.
Each doll comes with shirt or shorts and brush for hair styling.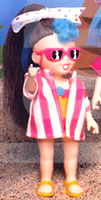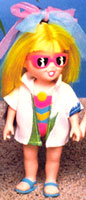 Sparkle N' Shine [1988]
"The coolest kids now have sparkling hair"!
The six female dolls were given new sparkly hair in 1988, and came with a glittery ribbon, shiny jacket and brush each.
Cool dolls with sparkling shimmering hair!
Each doll dressed in Hollywood-style glitzy jacket.
Each doll comes with own styling brush.
Six collectable styles, each with a unique look.
For Sale