Sea Wees :: Playsets
"Beautiful mermaids love to play in or out of water!"
Sea Wees were produced by Kenner from 1979-85. They were a series of 4 inch plastic mermaid dolls with 2 inch babies made for playing with in the bath. Each doll came with a flat sponge with one, two or three wholes in it which the dolls could fit into in order to float.
[eBay links are sponsored]
Images on this page found on eBay, with thanks to various sellers!
Playsets
There were four playsets produced and two of them came with special Sea Wees.
Sea Wees 'n' Babies
This playset came with two pairs of new Sea Wees n' Babies.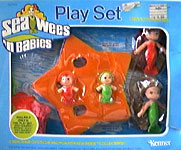 Dolls
Briny & Baby Beach
Sunny & Baby Surf
| | |
| --- | --- |
| | |
| Briny & Baby Beach | Sunny & Baby Surf |
Accessories
Yellow Vinyl Shell Shaped Bonnet
Pink Robe
Pink Towel
Red Octopus Comb
Green Star Comb
Orange Star Shaped Sponge
TropiGals Playset [1982]
"A colourful new way to launch the Sea Wees TripiGals collection! Blue hair and tan, Camille and her baby Cascade are beautiful mermaids with blue bodies: they have a pet pelican names Pelly. Sun-tanned Flora Sea Wees and her Baby Finella both have white hair and purple mermaid bodies and their sea-pet is a little dog, Dubloon. There's still more colour; a green starfish-shaped lily pad/sponge with die-cut holes for all to float in tub or pool, and both Camille and Flora Sea Wees have their own polynesian-style hula-hula grass skirt and orange and green hair combs."
This playset came with two sets of the TropiGals. These were not new characters, but had different colours from their original release.
Dolls
Camille, Baby Cascade and Pelly
Flora, Baby Finella and Dubloon
| | |
| --- | --- |
| | |
| Camille, Baby Cascade and Pelly | Flora, Baby Finella and Dubloon |
Accessories
2 Grass Skirts
Orange Bubbles Comb
Green Fish Comb
Yellow Star Shaped Sponge
Sea Wees Lagoon
Accessories
Mirror
Blue Blowfish Shower
Green Seahorse
4 Orange Coral Shaped Sponges
Sea Wees Beauty Shell
Accessories
Mirror
Green Brush
Green Double-fish Comb
Compartment for Sea Wee Combs
For Sale