Acorn Green :: Plush
"The specials friends of Acorn Green."
Acorn Green were produced by Tomy in 1986-87. The characters, all woodland animals, first appeared in a UK comic book, then came figures, plush toys and other accessories.
[eBay links are sponsored]
Images on this page thanks to Alan, Taryn, and eBay sellers The Purple Toy Box, ralfone234, marie840_0, marzyuk and pearsonbargains!
Plush
There were six plush characters produced. They were eight inches tall and came with reversible clothing and accessories. Each figure also came with an acorn shaped charm and chain which could be worn.
Bobby Badger
Honey Bunny
Flipper Frog
Letter Box Bear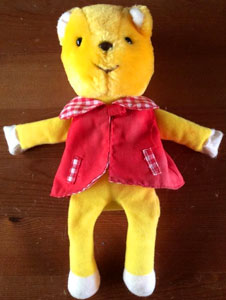 Scoop Fox
Sunshine Squirrel
For Sale