Get Along Gang :: Plush
"Making friends and having fun is the way to get along!"
Get Along Gang were produced by Tomy and Those Characters from Cleveland in 1984-87. They started of as greeting card characters, then a cartoon, figures, books and accessories.
[eBay links are sponsored]
Images on this page thanks to WishbookWeb.com, PocusPossum and eBay seller The Purple Toy Box!
Skatin' Plush
All six main characters were produced as Skatin' Plush toys, which were about 12 inches high. Plus there were two more characters turned into Skatin' Plush which were only sold in the UK.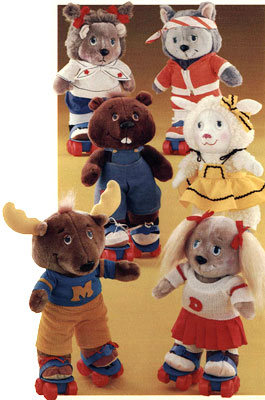 | | |
| --- | --- |
| | |
| Catchum Crocodile [UK] | Leland Lizard [UK] |
Other Plush
There seems to have been three sizes of plush toys produced, the largest at about 20 inches, Skatin' Plush (above) at 12 inches and smallest ones at about 6 inches. The largest plush toys had plastic shoes.
I don't know how many characters were produced at 20 inches, I have only found evidence of two. They doubled up as pajama cases!
Large Plush
| | |
| --- | --- |
| | |
| Dotty Dog | Montgomery Moose |
Small Plush
| | | |
| --- | --- | --- |
| | | |
| Bingo Beaver | Dotty Dog | Montgomery Moose |
| | | |
| --- | --- | --- |
| | | |
| Portia Porcupine | Woolma Lamb | Zipper Cat |
For Sale