Angel Bunny :: Accessories
Angel Bunny was produced by Mattel in 1984-85, and was a small series of plush animals and toys for babies and toddlers.
[eBay links are sponsored]
Images on this page thanks to Nhtpirate and Emery, and eBay sellers myamazinggrace, Sweet*Simplicities and jjsd620!
Accessories
There were several baby and toddler toys made as part of this series and at least one book.
Star Rattle
"This colourful rattle helps babies develop their grasping skills and coordination while they learn to discriminate sights and sounds."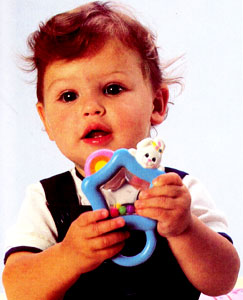 Heavenly Teether
"This teether is made of soft textured material and filled with treated drinking water. When it's refrigerated, it's even more soothing!"
Rattle Teether
"Just like the Heavenly Teether, this teether is filled with treated drinking water and can be cooled through refrigeration."
Hug Tight
"An ideal toy at home or away, this clever rattle attaches to high chairs or other smooth surfaces. With its rattling beads, it creates a fun diversion for baby while stimulating colour and sound awareness."
Rattle
"An Angel Bunny rattle helps baby develop grasping skills and eye-hand coordination."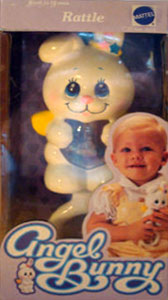 Teether Bathtoys
"These floating bath toys turn bath time into fun time! Each one has three separate pieces that baby can take apart and put back together."
Soft Grabber
"This soft toy will keep babies company during naptime and playtime. With its rattle inside, it entertains babies while it helps them develop their grasping skills. Soft Grabber can also be used as a crib decoration."
Ring O' Friends
"Angel Bunny and two friends have joined together to help babies develop their grasping skills. Just like Soft Grabber, Ring O' Friends has a rattle inside and can also be used as a crib decoration."
Tumblin' Beads
"This entertaining push toy can help baby learn to walk. Its colourful moving beads and fun noises stimulate sight and sound awareness while promoting physical coordination."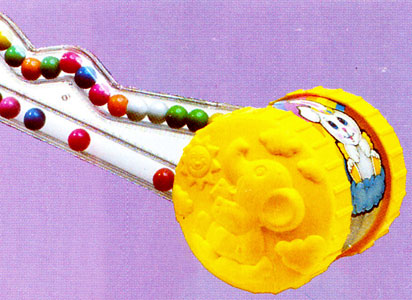 Friend Ship
"It's a pull toy, bath toy and musical toy in one! By matching each of the characters to its place on the ship, babies can learn about shape and colour."
Stack-A-Star
"This colourful toy helps babies develop grasping skills and visual discrimination."
Activity Ring
"By pushing, turning and shaking the activities on the ring, a baby develops grasping skills, eye-hand coordination, visual and sound discrimination."
Fun Learning Sphere
"On every side, there's something fun to do, see and hear! This colourful sphere entertains while it helps develop sensori-motor skills."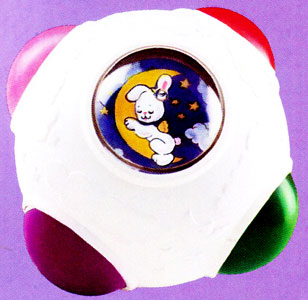 Sounds-Go-Round
"It's the first talking toy that a child as young as nine months can use! Sounds-Go-Round is a friendly carousel of words and sounds that stimulates sight awareness while promoting eye-hand coordination. When baby pushes the button, he can see friendly characters move on a merry-go-round and hear fun sayings and happy sounds. This reinforcement encourages baby to try again."
Soft Surprises
"This soft crib bumper toy has eight fun activities to excite baby's imagination and stimulate learning. It helps develop grasping skills and eye-hand coordination while teaching concepts of size, shape and colour."
Musical Entertainment Centre
"This versatile toy features ten activities to fascinate and involve baby for hours of multi sensory play. It attaches easily to most crib rails and comes with a stand for floor play."
Rail Runner
"With this toy, babies can go to sleep to the sounds of Brahms' Lullaby. When the train is wound up, it runs forward and backward and plays for about 15 minutes."
Peek-A-Boo Musical Crib Toy
"When this toy is wound up, it plays a gentle lullaby while Angel Bunny peeks out to surprise baby."
Li'l Mobile Phone
"Designed for the "junior executive" on the go, this soft mobile phone toy helps baby develop grasping skills plus sight and sound awareness. There's a receiver/rattle that attaches to a phone with a fabric fastener, an on-off knob that turns, a volume knob that moves back and forth, "touch tone" numbers that make fun noises, a phone book with pictures and a message centre with a pretend crayon. The Li'l Mobile Phone toy can be attached to a stroller, car seat, almost anything!"
Li'l Mobile Phone was featured in the same section as all the other Angel Bunny toys, so maybe there was a picture of Angel Bunny inside the phone book.
Take-Along Activity Toy
"It's a soft, portable activity centre for baby that can attach to a stroller, car seat, almost anything! Inside, there are things for baby to see, touch and hear, helping him develop sensorimotor skills and audio discrimination. There's even a charming Angel Bunny story for parents to read aloud. When baby's finished, it folds up neatly and has a convenient handle."
Li'l Safe Driver
"This colourful, entertaining toy provides miles of play for baby. It has six fun features a gear knob that moves, steering wheel that turns, horn that "honks," keys, a soft Angel Bunny rattle and a "glove compartment" door. And besides strapping to a car seat, it can also attach easily to a stroller or playpen."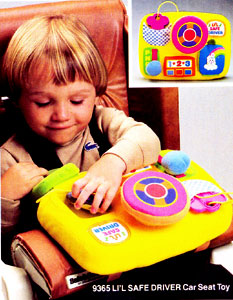 Baby's First Book
For Sale