Bunny Surprise
"Guess how many! It's a surprise! How many girls! How many boys!"
Puppy Surprise etc. were produced by Hasbro in 1991-1993. Each set comprised of a plush mother animal measuring about 12 inches long and a number of soft babies which were about 4 inches long. They had plastic faces and came in a variety of colours. The number of babies included varied and each one was different. The mothers came with a name tag around their necks, which also came in a variety of colours. Later on, the babies were sold on their own in many guises.
[eBay links are sponsored]
Images on this page thanks to Nile Perch, Jana and timpersock!
Bunny Surprise
"Mommy's having baby bunnies... will it be twins or triptes? Your bunnies are sleeing- only you can wake them up! Just use ice cold water to wipe their sleep away! A little warm water makes them sleep again..."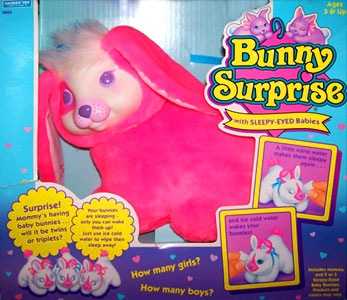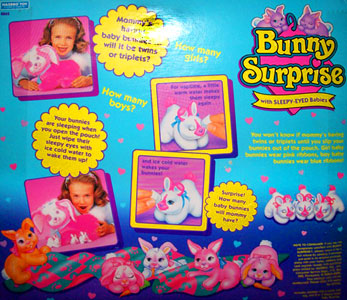 These are a few images of different Bunny Surprise.
Adult Bunnies
Baby Bunnies
For Sale