CuddleBrites
"Meet the Cuddlebrites - four precious puppies who really light up with your love!"
CuddleBrites were produced by Dreamworks in 1991. They were a small line of plush dogs with fibre optics sprouting out the tops of their heads which would glow and change colour.
[eBay links are sponsored]
Images on this page thanks to Miss_Leonie, 2000 Collectable Toys, Beckie and eBay sellers Smart Shopper Boutique and sebring4260 !
CuddleBrites
"Each Cuddlebrite has a glittery bow and shimmering hair that glow with fantasy lights when you press the button on top of her head! And when you dance with your Cuddlebrite or rock her to sleep, the beautiful lights change colour! The lights turn off automatically after two minutes. Cuddlebrites come with colourful ribbons, a fancy collar, and a special 'Cuddlebrites charm that you can wear, too. They're surface washable, and you can groom and brush their fur and hair!"
There were four CuddleBrites produced, which measured about 16 inches high. The yellow and white dogs had three long spirals of ribbon coming from their ears, whereas the pink and purple dogs had bright pink bows. All had iridescent tinsel in their hair too.
From left to right:
Amberglow - "is warm and loving! Her hair lights up as bright as the sun!"
Glitterplum - "loves to dance! Her light-up hair changes colour when she moves!"
Rosyshine - "is sweet and shy! Her lights change colour when you cuddle her!"
Lillylite - "is a party girl! Friends and fun make her light-up bow sparkle!"
They each came with a large plastic bow on the tops of their heads with a switch on the back to turn the light inside on. This in turn lit up the fibre optics. They also each came with a ribbon collar around their neck with a red plastic heart featuring the CuddleBrites logo.
Packaging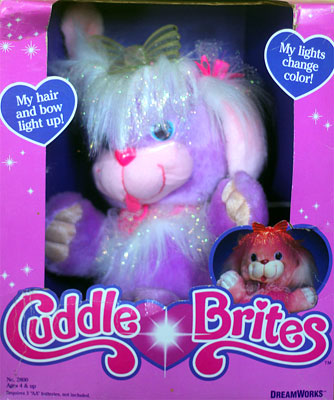 For Sale