Flower Fairies :: Playsets
Flower Fairies were produced 1983-89 by Hornby. They were a series of 7 inches dolls with little petal outfits and wings that fitted into their backs, inspired by Cicely Mary Barker's drawings. Along with the fairy dolls there were pixie dolls, fashion sets, animal friends and playsets.
[eBay links are sponsored]
Images on this page thanks to Wylde Things Ltd and various eBay sellers!
Playsets
There were nine playsets produced of various sizes and sorts.
Fairlyland Coach + Winged Hores (sold seperatly)
Golden Coach & Horse
Bedchamber
Petal Pool
Fairyland Home
Secret Garden
Snail Drawn Carriage
Treehouse
Fairlyland Coach & Winged Horse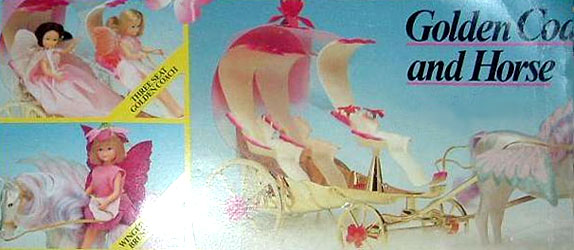 Golden Coach & Horse
| | | |
| --- | --- | --- |
| | | |
| Bedchamber | Petal Pool | Fairyland Home |
| | |
| --- | --- |
| | |
| Secret Garden | Snail Drawn Carriage |
Treehouse
Playset Accessories
There were three fairy sets which comprised of a doll and a smaller playset accessory.
Fairy Princess [c/w throne, brush, comb, mirror, tiara and wand]
Freesia The Wishing Fairy "With Wishing Well, flowers and frog"
Garden Ballet [c/w flying stand]
Garden Ballet
Fairy Princess
Freesia, The Wishing Fairy
There was also mention of another small playset shown in a Flower Fairy catalogue/brochure which I have not heard mention of elsewhere, so maybe it was never produced.
Fairy Cherub & Walnut Carriage
For Sale