Little Pretty :: Babies
"These sweet colourful kitties and puppies are just made for little girls to love. Just right to cuddle and pamper, Little Pretty kitties and puppies make the world a nicer place to be."
Little Pretty were produced by Mattel from 1989-91. They were a series of kitties and puppies with plastic bodies and long brushable hair. Each one also had a different symbol (like My Little Pony). There was also a few playsets produced.
Little Pretty kittens were made using the same mould as Lady Lovely Locks pets Sparkle Pretty, of which there were six produced. The obvious difference between them is that Sparkle Pretty pets did not have symbols.
Images on this page thanks to Lara & Jana, Wishbook or found on eBay!
Babies
"Adorable baby pets with shimmer-shine bangs and lovely long hair to comb and style! Each comes with its own action accessory: a cradle that rocks, a buggy that rolls, a swing that swings, or a rocking horse that rocks!"
There were four characters produced in the Babies series, three kittens and one puppy. They had glitter in their hair and came with a bonnet, blanket, comb and one larger accessory each. There was also one more baby produced with a playset (see Playsets section for more details). One, if not all, had name variations in the UK/Europe.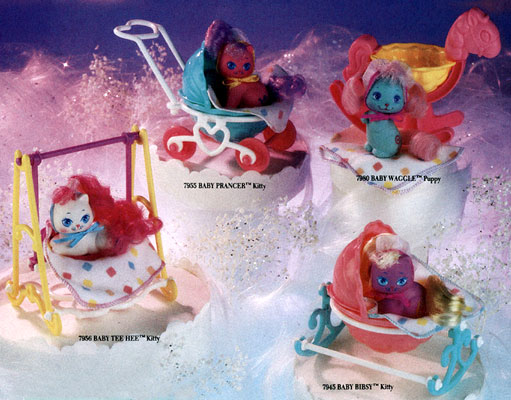 Kittens
Baby Bibsy - c/w pink and aqua rocking bed - purple with yellow hair; yellow baby bib symbol
Baby Prancer - c/w aqua and pink carriage - pink with purple hair; aqua baby carriage symbol
Baby Tee Hee [UK: Beauty] - c/w purple and yellow swing - white with hot pink hair; blue bunny symbol
Puppies
Baby Waggles - c/w pink rocking horse - aqua with light pink hair; pink rattle symbol
| | | | |
| --- | --- | --- | --- |
| | | | |
| Baby Bibsy | Baby Prancer | Baby Tee Hee | Baby Waggles |
For Sale