Little Pretty :: Unproduced Sets
"These sweet colourful kitties and puppies are just made for little girls to love. Just right to cuddle and pamper, Little Pretty kitties and puppies make the world a nicer place to be."
Little Pretty were produced by Mattel from 1989-91. They were a series of kitties and puppies with plastic bodies and long brushable hair. Each one also had a different symbol (like My Little Pony). There was also a few playsets produced.
Little Pretty kittens were made using the same mould as Lady Lovely Locks pets Sparkle Pretty, of which there were six produced. The obvious difference between them is that Sparkle Pretty pets did not have symbols.
[eBay links are sponsored]
Images on this page thanks to Wishbook and nhtpirate!
Unproduced Sets
There were several new sets shown in the 1991 Mattel catalogue, but they never made it into production.
Holiday Pets
Mommy & Baby
Plush
Fillies
Holiday Pets
"NEW!... and all the girls shouted with glee to see Little Pretty pets hanging on their Christmas trees! Each special Holiday Pet is scented with a yummy holiday fragrance and comes in a unique, themed and decorated, transparent ornament that really can be hung on a Christmas tree. Scents include candy cane, wintergreen, and fresh baked cookies."
Mommy & Baby
"NEW! Twice the pets to love and care for! "Purrfect" for Little Pretty pet lovers and collectors! Available in 2 separate, 2-pet packages. One features a Polished Paws Kitty Mommy and her adorable baby powder-scented kitten. The other is a Polished Paws Puppy Mommy and her precious baby powder-scented puppy. Icy water makes red nail polish and special beauty mark appear on Polished Paws Mommies. Warm water makes the nail color and beauty mark disappear. Babies have a colour change beauty mark too! Babies are half the size of Mommies for lots of nurturing play fun. Each set also includes a blanket for Little Pretty Baby and a comb for the Mommy."
Plush
As far as I know, the plush toys never made it into production and only ever appeared in a TV commercial. They look to be a pink puppy and a blue kitty, made of shinny fabric rather than fur.
Fillies
"Four glamorous fillies feature hair extensions that can be worn 1, 2 or 3 at a time for super hair play fun! There's no end to the dramatic looks girls can create! Hair extensions also snap into a pretty styling comb girls can wear in their own hair!
Little Pretty Fillies were set to be released in 1991 but never made it past the publicity planning stage. Similar to My Little Pony, these fillies had colourful bodies, long brushable hair and symbols on their chests. They don't appear to have been given individual names.
| | |
| --- | --- |
| | |
| Light Pink Filly | Bright Pink Filly |
| | |
| --- | --- |
| | |
| Purple Filly | White Filly |
"Fillies can wear them 2 or 3 at a time!"
"3 glamorous hair extensions!"
"Styling comb becomes a hair decoration for girls!"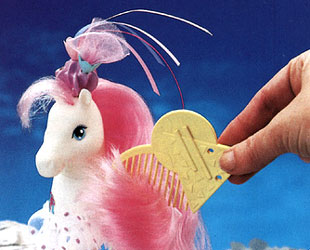 For Sale