Little Pretty :: Show Offs
"These sweet colourful kitties and puppies are just made for little girls to love. Just right to cuddle and pamper, Little Pretty kitties and puppies make the world a nicer place to be."
Little Pretty were produced by Mattel from 1989-91. They were a series of kitties and puppies with plastic bodies and long brushable hair. Each one also had a different symbol (like My Little Pony). There was also a few playsets produced.
Little Pretty kittens were made using the same mould as Lady Lovely Locks pets Sparkle Pretty, of which there were six produced. The obvious difference between them is that Sparkle Pretty pets did not have symbols.
[eBay links are sponsored]
Images on this page thanks to Wishbook!
Show Offs
"They're the prettiest hits of the Kitty Kat Show! Three ultra-glomorous kitties with the long, flowing hair and three colour-change features girls with love! Just like magic, girls 'apply' colourful makeup, 'polish' pretty paws, and change the colour of kitties' luxurious tails! All it takes is icy water! Kitties become so glamorous they a win first prize trophy with a magical surprise feature. When girls touch trophy to an ice cube, they can stamp lots of pretty patterns on kitties' colour-change tails!"
There were three characters produced in the Show Offs series, all kittens. They had two tone curly head hair and straight single coloured tails. Make-up appeared when cold water was applied to their eyes or toes, and their tails changes colour in the same way too. They came with a trophy stamp and stand, applicator cloth, crown, ribbon and comb.
Kittens
Cherry Belle - white with purple and peach hair; purple star symbol
Heaven Heart - purple-pink with pink and aqua hair; dark purple heart symbol
Prize Petal - pink with yellow and blue hair; blue six-petaled flower symbol
| | | |
| --- | --- | --- |
| | | |
| Cherry Belle | Heaven Heart | Prize Petal |
"Nail polish changes colour..."
"...makeup does too. All it takes is icy water!"
"Design a pretty colour patternon Kitty's tail!"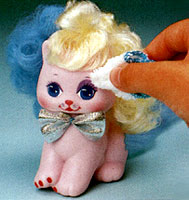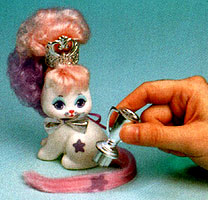 For Sale