Sweetie Pups :: Babies
"The most brushably beautiful pets of all!"
Sweetie Pups and Sweetie Kitties were produced by Hasbro from 1989-91. There were two distinct lines of the Pups and Kitties; the original line, which was quite realistic, and the Party Time line which used a bright rainbow of colours. There was also series of Baby Pubs and two playsets released.
[eBay links are sponsored]
Images on this page thanks to Pablo and various and eBay sellers!
Baby Pups
"Adorable little puppy comes with a bottle for feeding time fun!"
There were four Baby Sweetie Pups. They each came with a bottle (made from Baby My Little Pony bottles moulds) and a comb or brush.
Baby Bichon Frise [white]
Baby Springer Spaniel [brown & white]
Baby Cocker Spaniel [golden yellow]
Baby Toy Poodle [light tan]
Packaging is dated 1990.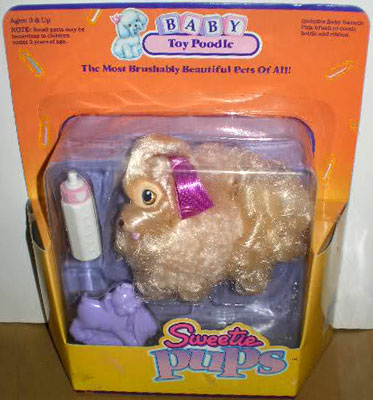 Other Baby Pups
There was one more Baby Pup, Baby Maltese, which came with the Sweetie Dreams Bed and Vanity playset. There are rumours that this set was also sold with a Baby Westie.
See Baby Pups for images.
For Sale