My Little Pony :: Special Ponies ~ Year 4 [1985 - 1986]
MLP Year 4 had five sets of ponies, a new Megan & Sundance, the introduction of Molly & Baby Sundance and a new set of Plush Ponies. There were also several non US variations and alternatives. There was one set of special offer ponies, six playsets (including two re-issues), one accessory and three pony wear sets.
[eBay links are sponsored]
Images on this page thanks to Silver Tickle and various eBay sellers!
Year 4 ~ Contents
Adults
Babies
Other Ponies
Playsets
Accessories
Pony Wear
Collectors Ponies
"Do you remember Cotton Candy, Blossom, Minty, Snuzzle, Blue Belle, and Butterscotch? They remember you!"
In early 1986 the six Original Ponies from Year 1 were re-issued as a special offer, which was available for two years in various forms. They had regular concave feet (rather than flat like the originals) and were a slightly different shape to fit in with the current design.
Blossom and Cotton Candy had already returned in Year 2's Earth Ponies, whilst Butterscotch was previously sold in Year 2's UK "Gymkhana" playset. Snuzzle would be later sold with the UK re-issue of the "Grooming Parlour" playset in Year 5.
See also:
Blossom
Blue Belle
Butterscotch

Type: Earth
Body: Purple
Hair: Purple
Symbol: Flowers
Type: Earth
Body: Blue
Hair: Purple
Symbol: Stars
Type: Earth
Body: Orange
Hair: Orange
Symbol: Butterflies
Cotton Candy
Minty
Snuzzle





Type: Earth
Body: Pink
Hair: Pink
Symbol: Dots
Type: Earth
Body: Green
Hair: White
Symbol: Clover
Type: Earth
Body: Gray
Hair: Pink
Symbol: Hearts
"Every day promises delightful surprises on the far side of the rainbow."
They were packaged in clear cellophane packets with a little fold-out poster inside.
"Cotton Candy is often caught nibbling a sweet treat from Blossom's Garden. Butterscotch plays hide-and-seek with all the butterflies and honeybees. Blue Belle adores anything blue - especially blue ribbons and blueberries. Minty closes her eyes and makes a special wish with a four-leaf clover from the meadow. On sunny days, Snuzzle likes to take a leisurely nap under the rainbow."
This is a flat foot pony side by side with the same concave foot pony for comparison.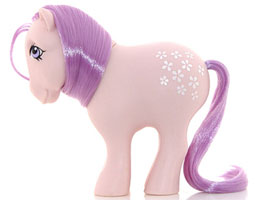 For Sale