Fashion Star Fillies :: Original
"In the world of ultra glamorous fashion, one name is on everyones lips: Fashion Star Fillies!"
Fashion Star Fillies were produced by Kenner in the mid 1980's. They were a series of shimmery, multi-coloured horses which could have their long manes and tails styled and bodies painted. There were several sets of fashion wear, hair & body adornments and one playset.
[eBay links are sponsored]
Images on this page thanks to various eBay sellers!
Original
"These six beautiful horses let you share in the fun and adventure of the fashion world. Each beautiful horse brings a little something different to the show. So, collect all six to have more fabulous fun with the Fashion Star Fillies."
There were six fillies in the original series.
Calla
Accessories:
1 Pink Sun Barette
1 Yellow Sun Barette
Metalic Purple and White Sheer Veil
Gold Tail Wrap
4 White Sheer Leggings
Pink or Yellow Brush
Chloe
Accessories:
2 Pearly Pink Horse Head Barettes
2 Pearly Purple Horse Head Barettes
Gold and Pink Glittery Crown
Pink Sequined Tail Wrap
Pink with Lavendar Trim Velvet Cape
Pink or Purple Pearly Horse Head Brush
Dara
Dara came in two poses.
Accessories
2 Pink Moon Barettes
2 Purple Moon Barettes
Purple Feathered Headdress with Multi Coloured Ribbons
Multi Colored Ribbon Tail Tie
Purple or Pink Moon Brush
Nikki
Accessories
1 Pink Butterfly Barette
1 Purple Butterfly Barette
4 Silver Hoof Covers
Silver Tail Net
Silver Head Bow
Pink or Purple Butterfly Brush with Raised Wings
Lani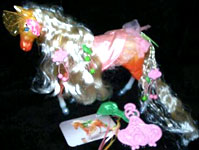 Accessories:
2 Green Rosebud Barettes
2 Pink Rosebud Barettes
Pink and Green Sheer Tailbow
Pink and Gold Mesh Rose Headband
Pink or Green Rosebud Brush
Joelle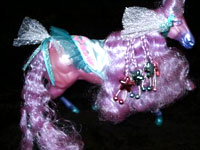 Accessories:
2 Blue Star Barettes
2 Pink Star Barettes
Teal and White Shimmery Mesh Headband
Teal and White Shimmery Mesh Tailbow
Blue or Pink Shooting Star Brush
For Sale