Fashion Star Fillies ::
"In the world of ultra glamorous fashion, one name is on everyones lips: Fashion Star Fillies!"
Fashion Star Fillies were produced by Kenner in the mid 1980's. They were a series of shimmery, multi-coloured horses which could have their long manes and tails styled and bodies painted. There were several sets of fashion wear, hair & body adornments and one playset.
[eBay links are sponsored]
Images on this page thanks to various eBay sellers!
Sassy Sixteens
"The Sassy Sixteens horses are hip, cool, and happening. They are fun teenaged fillies that love fashion. Add all six of these fun young fillies to your collection."
There were six ponies in the Sassy Sixteens series. They were younger horses with smaller, slimmer bodies.
Ariel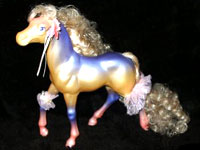 Accessories:
Pink Mesh Tutu
Pink Rosebud Headband
Purple Flower Comb
Corinne
Accessories:
Pink Sheer Mane Bow
4 Lace Hoof Covers
Pink Crown Comb
Fallon
Accessories:
2 Gold Lace Scrunchies
Dark Pink Gathered Ruffle Comb
Janel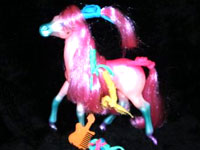 Accessories:
Pink, Yellow, Blue & Green Ties
Orange Guitar Comb
Justine
Accessories:
Gold Headband/Pink Sheer Scarf
Gold Sunglasses Comb
Sarena
Accessories:
Multicolor Ribbon Headband
4 Multicolor Spotted Leggings
Yellow Paint Pallet Comb
For Sale