Fashion Star Fillies :: Feelin' Fancy
"In the world of ultra glamorous fashion, one name is on everyones lips: Fashion Star Fillies!"
Fashion Star Fillies were produced by Kenner in the mid 1980's. They were a series of shimmery, multi-coloured horses which could have their long manes and tails styled and bodies painted. There were several sets of fashion wear, hair & body adornments and one playset.
[eBay links are sponsored]
Images on this page thanks to The Filly Catwalk or found on eBay!
Feelin' Fancy
"These fabulous Fashion Star Fillies horses are the graceful and elegant Feelin' Fancy fillies. Each of these charming beauties has a lace design on her body reflecting her own unique personality. Collect all eight of these special lace fillies for more fun with Fashion Star Fillies "
There were eight ponies in the Feelin' Fancy series. They had different lace patterns on their sides. Some of these were re-releases from the original series.
Chantilly
Accessories:
2 Pink Heart Barrettes
Iridescent Pink and WhiteHead Bow
Iridescent Tail Skirt
Purple Flower Comb
Chloe
Accessories:
1 Purple Horse Head Barrettes
1 Pink Horse Head Barrettes
Pink Sequined Tail Wrap
Gold and Pink Crown
Pink Cape with Lavender Fur Trim
Pink or Purple Horse Head Brush
Darci
Accessories:
1 Pink Sparkly Palm Tree Barette
1 Green Sparkly Palm Tree Barette
2 Lime Green Curly Shoelaces
Lime Green Tail Skirt
Green Palm Tree Comb
Devan
Accessories:
1 Pink Snowflake Barrettes
2 Purple Snowflake Barrette
Multicolor Speckled Tail Scrunchy
Hot Pink Head Muff
2 Hot Pink Hoof Muffs
2 Light Pink Hoof Muffs
Pink Snowflake Comb
Jasmine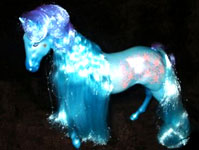 Accessories:
Pink Sheer Ribbon with Jewel
Pink Sheer Tail Ribbon
4 Gold Beaded Anklets
2 Shiny Gold Star Barrettes
Blue Star Comb
Joelle
Accessories:
2 Shiny Blue Star Barrettes
2 Shiny Pink Star Barrettes
White and Teal Mesh Head Piece
White and Teal Mesh Tail Bow
Blue or Pink Shooting Star Brush
Raquel
Raquel came in two poses.
Accessories:
1 Purple Flower with Two Pink Bows Barrette
White Lace Scrunchy
2 White and Hot Pink Lace Gloves
Hot Pink Tail Bow
Hot Pink Bow Comb
Tamara
Tamara came in two poses.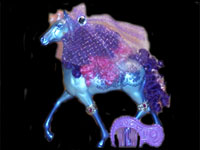 Accessories:
Purple and Silver Mesh Hair Comb with Jewel
2 Silver and Pink Garters
Purple Jewel Comb
For Sale